Oleanders, how to propagate and important information about the dangers of pruning them
Gardening in Spain, Oleanders are extremely easy to propagate and very useful in a dry garden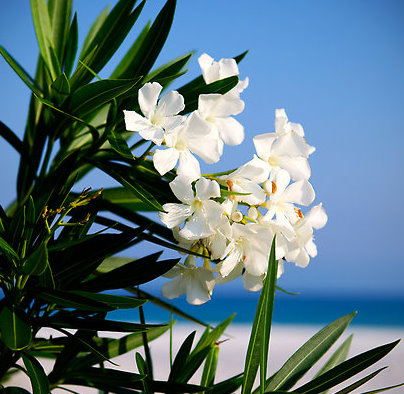 Oleanders are one of the most popular choices for hedging or for filling up large, empty spaces, and can also be extremely useful as topiary specimen trees in areas where there is plenty of space.
They are very hardy, evergreen, and grow wild in many waterways throughout the region, bearing attractive white, pink, or peach flowers in late spring.
As a plant they are incredibly drought tolerant, which makes them a perfect choice for dry areas which do not receive any irrigation, but bear in mind that they are extremely vigorous, and need annual pruning to maintain any semblance of shape, so can become very large if left untamed.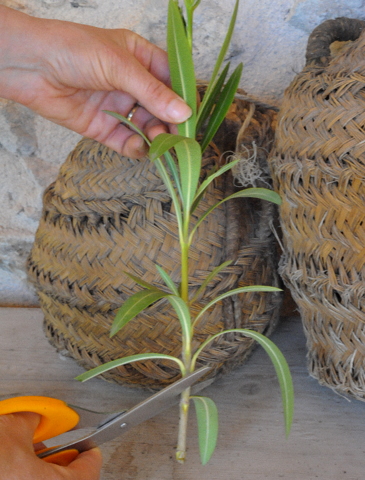 One point thats really important to stress to novice Spanish gardeners is the high toxicity of this plant. Ex-pats have been hospitalised after pruning an oleander hedge without wearing gloves and covering skin, the sticky white sap causing extreme irritation and allergies in some people. Gloves and long-sleeved shirts should always be worn when handling or cutting oleanders.
Animals can also react badly to the toxicity, so keep cats and dogs well away from newly cut branches.
Its also worth noting that these branches should not be burnt or composted either: cut them up and put them in a bin, not a green waste recycling unit, or re-incorporate back into the wild.
Were lucky enough to live in the wild, so ours are just pushed into a bank of vegetation, and we dont worry about wild animals eating them, because they know not to- you can watch the goats and sheep grazing a bank, they will eat everything except the oleanders.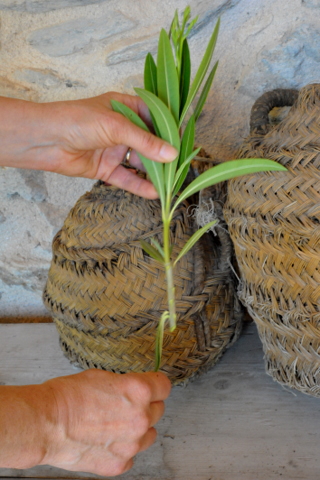 They are extremely easy to propagate, root quickly and cuttings can be rooted in a number of ways.
One of the simplest is to simply place cuttings in bottles of water, or they can also be rooted into potting compost.
We tend to take our oleander cuttings straight from the prunings, and usually prune back hard after flowering before the big heat kicks in.
Selecting Oleander cuttings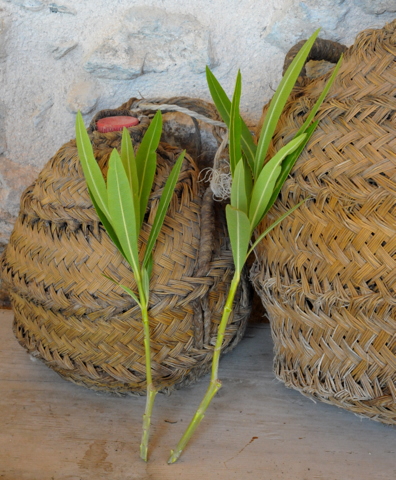 Choose a piece of about 30cm long.
Cuttings can be either whats called semi-ripe , softwood or greenwood. What this actually means is that when branches grow, the older wood hardens off and becomes woody, whereas the younger shoots become increasingly soft as they reach the tip of the branch.
All the efforts of the plant are focused in the newer shoots, so it is always better to take cuttings from these areas, as the old woody growth doesnt root very well.
The greenwood is the soft growth at the end of the branch, the softwood is slightly further down the stem and is slightly older growth which hasnt yet gone hard, and the semi-ripe wood is visibly turning woodier and is usually a darker colour.
Oleanders will root from any of these types of material, but we would recommend not taking anything that wont stand upright in a bottle of water, and if youre putting the cuttings into compost, take shorter cuttings from softwood.
Cut to the correct length just below a leaf node ( the point at where the leaves form along the stem, and remove any flower heads.
Strip off all leaves other than a few around the top of the cutting where growth will take place.
For water rooting, simply fill up a bottle and stand the cutting in the water, making sure there are no leaves touching the water or they will rot, and for potted cuttings, the bottom of the cutting can be dusted with hormone rooting powder, or not. Oleanders strike so readily that its really not necessary to use hormone rooting powder, then pot into standard compost.
If the top wilts, pinch it out.
Feel the stem and if the main stem feels as though its quite firm, its taking up water and is likely to pull through, but if the stem feels limp, throw it away and start again. Pinching out the top will still enable the cutting to take up water, but takes the pressure off the cutting to struggle maintaining top growth. We often leave the leading shoot in to start with, but if it wilts, pinch it out later.
Leave in a light, but cool area and dont allow the cutting into the direct sunlight until it has rooted.
Its easy to see when a cutting in a bottle has rooted , and for potted cuttings the sign is when the cutting starts to put out new leaf shoots.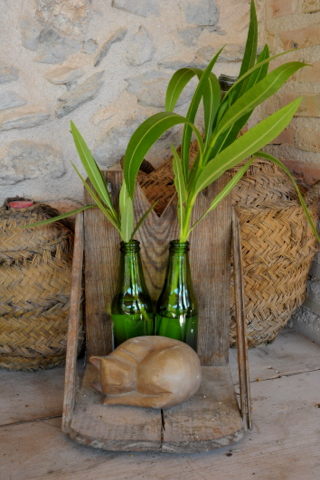 We dont usually cover oleander cuttings with a bag as they tend to strike well without them.
It normally takes around a month to root, and within a short time the plant will need potting on into a bigger pot to grow on.
Our advice would be to take cuttings in May/June, with a view to planting them out in mid-autumn once the rains have started and the plants are strong enough to cope on their own, although oleander cuttings can be taken at virtually any time.
For a bushy plant, pinch out new growth to encourage structural branches to form and give a better shape.
article_detail
article_detail
Contact Murcia Today: Editorial 966 260 896 / Office 968 018 268