September 23 to 25 Antiques Fair and Classic Car show at the IFEPA in Torre Pacheco
ARCHIVED ARTICLE
Around 40,000 vintage and retro items on offer at the 19th edition of the Torre Pacheco Antiques Fair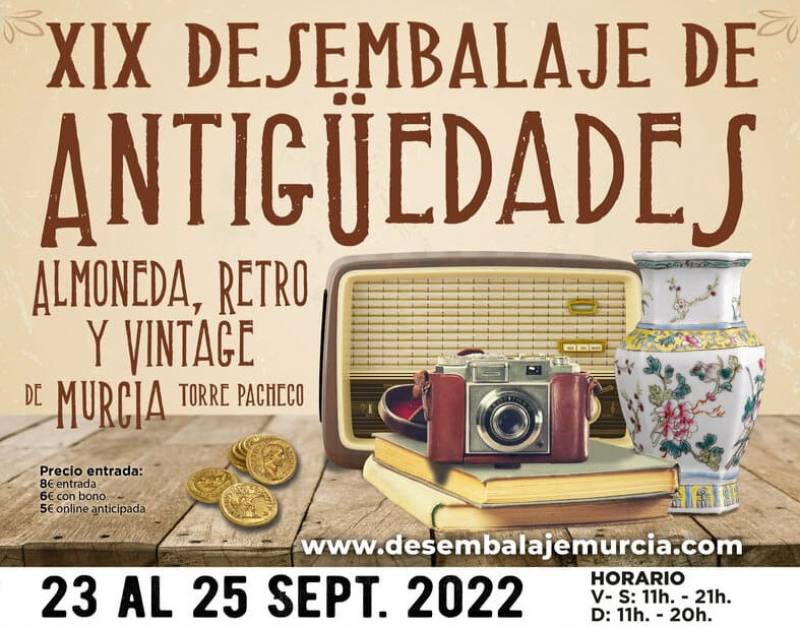 The ever-popular annual Antiques Fair at the IFPEA venue in Torre Pacheco returns this year from September 23 to 25 with an important new addition to the attractions: a classic car and motor vehicle show running alongside the main event.
The 19th edition of the Antiques Fair opens on Friday and Saturday September 23 and 24 from 11.00 to 21.00 and on Sunday September 25 from 11.00 to 20.00, with admission priced at 5 euros if booked in advance online here (available only until midnight on September 21) or 8 euros on the door. The admission fee covers both the antiques fair and the classic vehicle show.
As ever, the exhibitors will be offering a host of items for sale, from coins to candelabras and from gramophones to dolls and artwork – it is difficult not to fall for at least a couple of the huge variety of vintage and retro items on offer!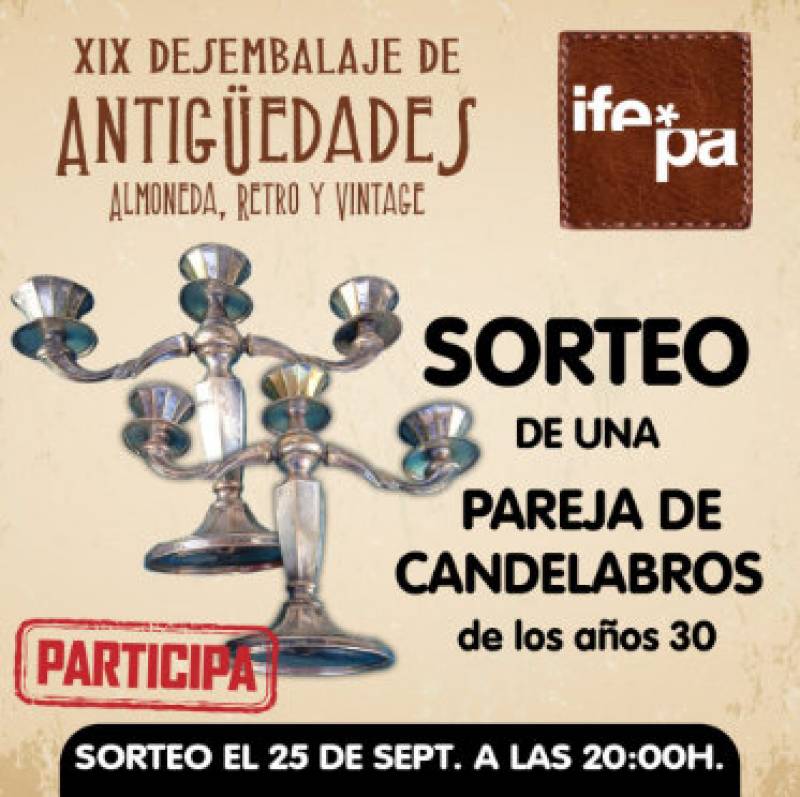 Among the 44,000 or so objects being displayed are bronze and nickel cash tills, typewriters, Victorian sewing machines, phonographs, rustic decoration, microscopes, jewellery, crockery, framed pictures, bicycles, dolls, telephones, toys, furniture, lamps, clocks and watches, irons, mirrors, walking sticks, musical instruments … and loads more! The minimum age of the pieces on sale is 40 years but many are from the 19th century or before, with exhibitors travelling to the show not only from all over Spain but also from France, Italy, the UK and the Netherlands.
Alongside the sale of antiques there are also various restoration workshops over the weekend and a free prize draw for a pair of 1930s candelabras can be entered simply by filling out the form which is handed to visitors as they enter. Further information on the workshops is available at www.desembalajemurcia.com under "talleres".
The fair is run on the "unpacking" model which was pioneered in France, with asking prices anywhere between 5 euros and sums well into four figures. As a guarantee of authenticity and quality a sales certificate can be provided and it is also possible to arrange transport for larger items.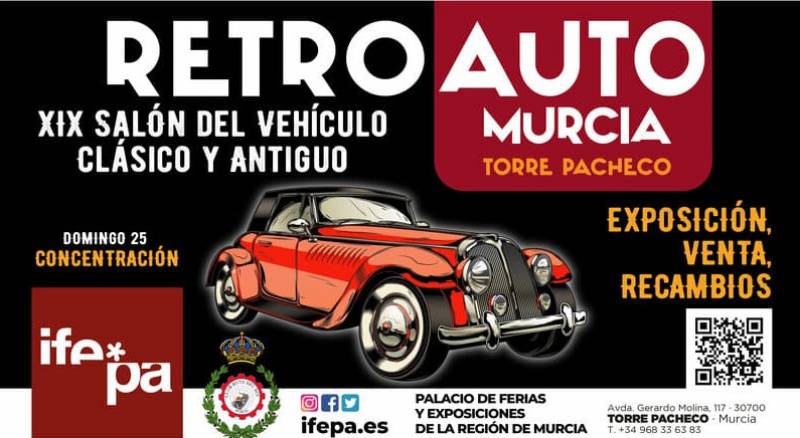 The classic car and motor vehicle event is organized by Club Ruta del Sol and features not only motor cars but also motorcycles, specialist magazines and information provided by associations in the field. On Sunday September 25 a mini-rally is scheduled in the car park of the IFEPA, and variety is guaranteed by the 25 exhibiting businesses from Madrid, Almería, Alicante, Barcelona, Valencia, Albacete, Toledo and Córdoba as well as the Region of Murcia.
For more upcoming events go to the What's On section of Murcia Today.
Address
Avenida D. Gerardo Molina, 117, 30700 Torre Pacheco (Murcia)
Tel: (+34)968 336 383

The IFEPA Fairs and Exhibitions Centre of the Region of Murcia, (the Palacio de Ferias y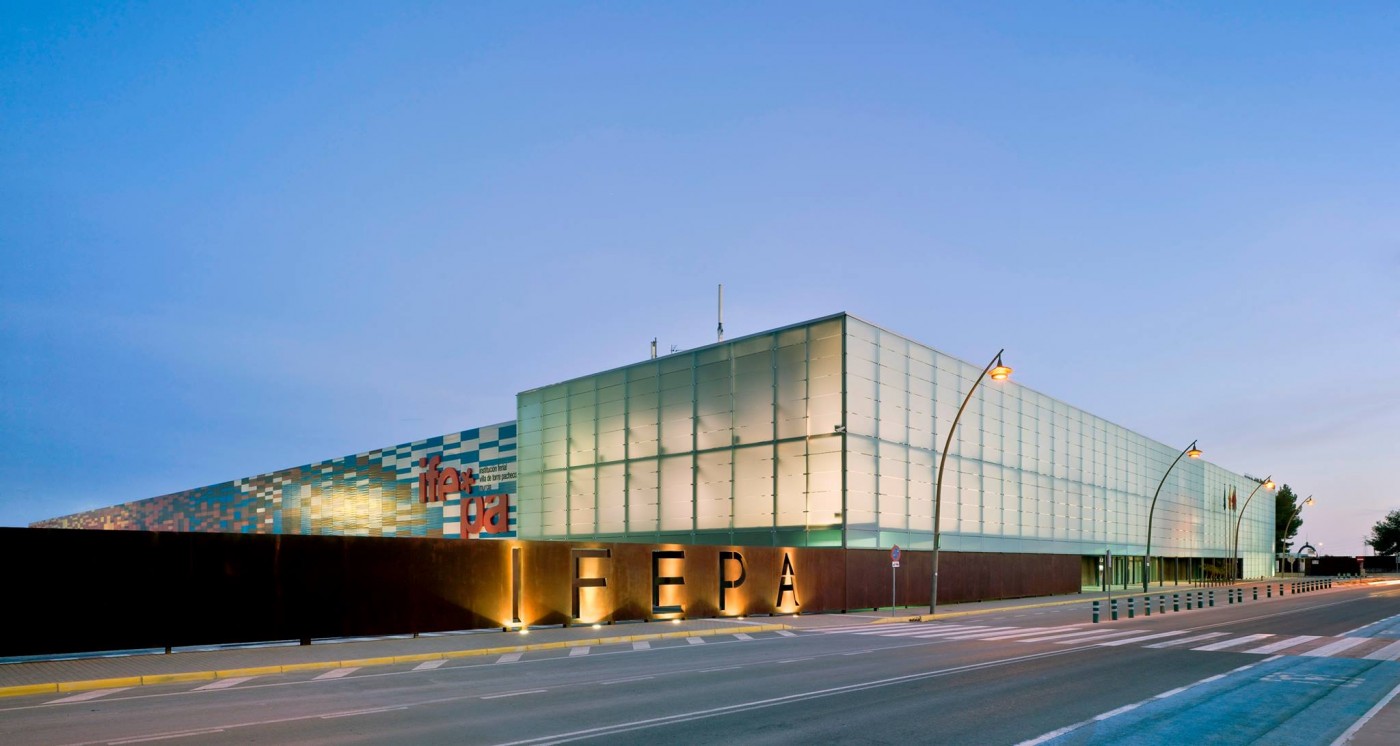 Exposiciones Región de Murcia IFEPA) has become one of the most important commercial reunion points for business professionals in South-eastern Spain, having been in operation from 1984.

IFEPA hosts many cultural & trading fairs, public exhibitions and events throughout the year, including the annual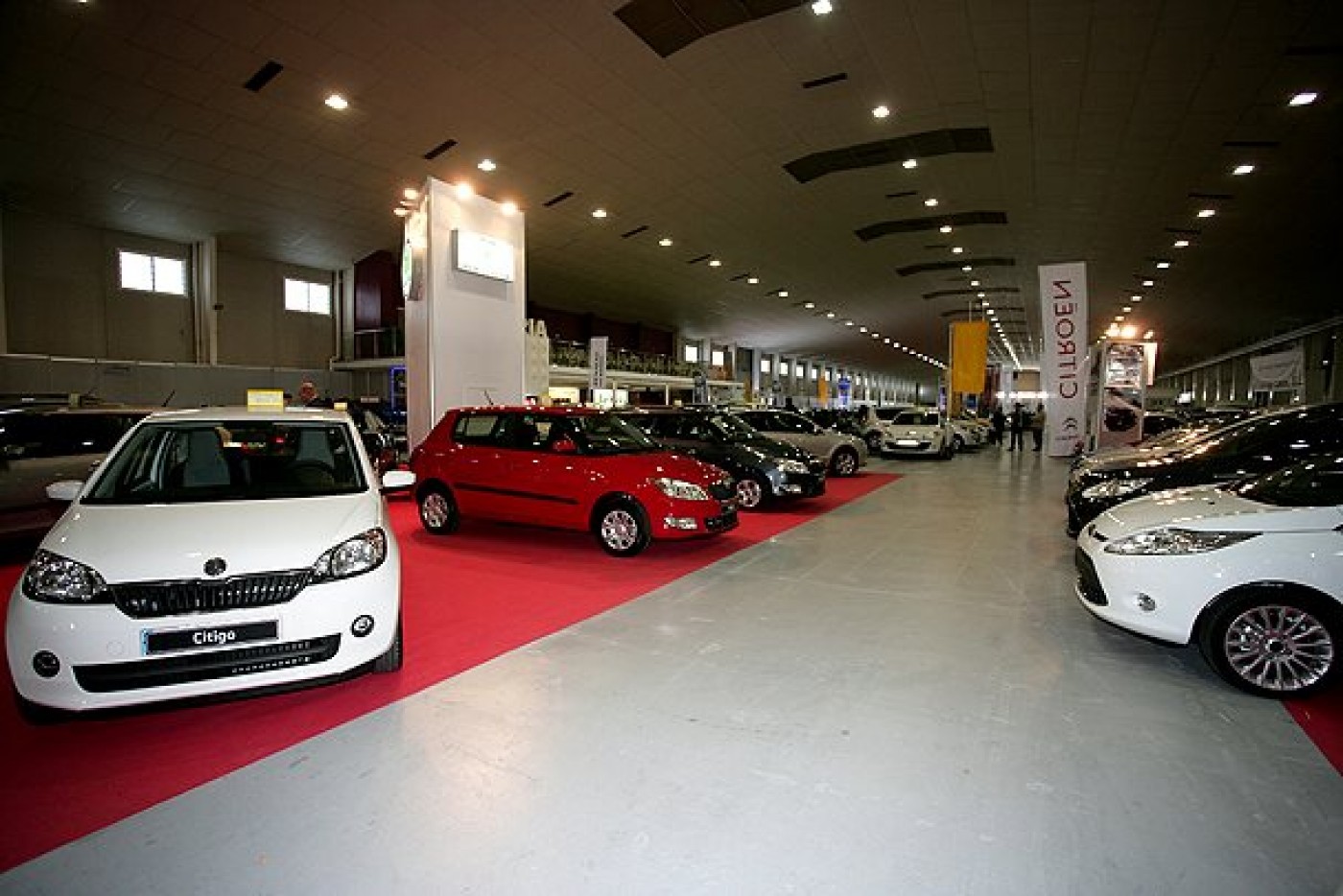 horse and dog shows, wedding show, antiques fair, car fair and tourism fair, as well as musical events.
The exhbition centre is spread over 57,098m2, with both interior and exterior display areas, and on-site parking for more than 2,500 vehicles. In addition to the main exhibition areas, IFEPA also house a café, restaurant, VIP lounge, and several assembly and meeting rooms.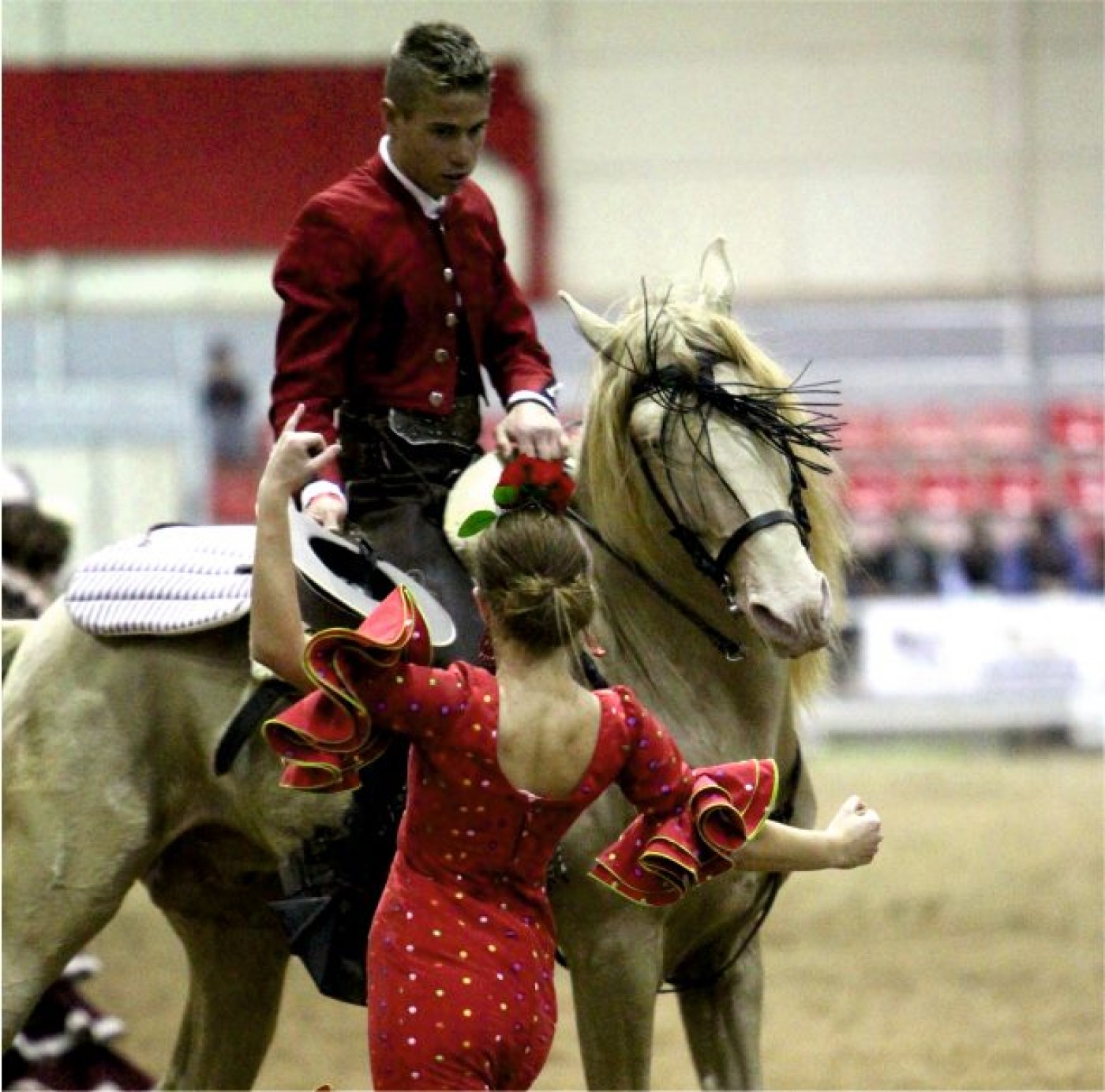 The centre is ideally located in the centre of the region, in the middle of the Murcia-Cartagena axis and near to Corvera International Airport, with the large population and the high number of tourists in the Mar Menor area guaranteeing an excellent attendance level at all the events it hosts.
The IFEPA Exhibitions Centre hosts a number of annual events at national level in collaboration with various bodies, associations and organisms across a variety of sectors, as well as hosting other cultural, sporting and community activities.
Tickets for the different events can be purchased directly from IFEPA's box office.
Opening hours
Monday to Friday 09:00 - 14:00 and 16:00 to 19:00.
Note that these are the general opening hours, though times will vary during fairs and exhibitions.
Contact Murcia Today: Editorial 966 260 896 / Office 968 018 268