Date Published: 12/12/2013
Divine delights in Orihuela
In Orihuela those who lead us most into temptation are the nuns!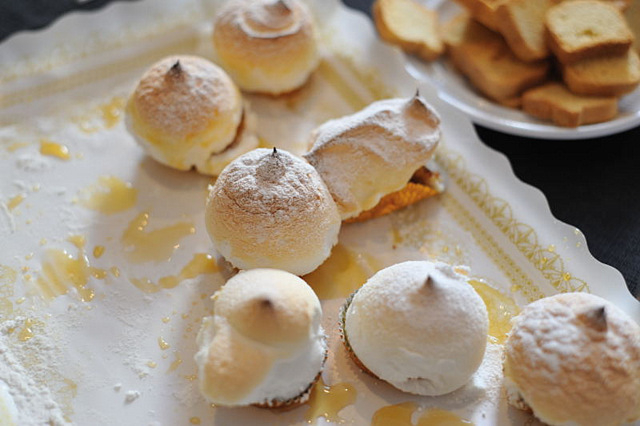 Christmas is a time for sweet pleasures, when sharp winter air stimulates a craving for warm satisfaction and voluminous clothing hides the evidence of a little winter indulgence.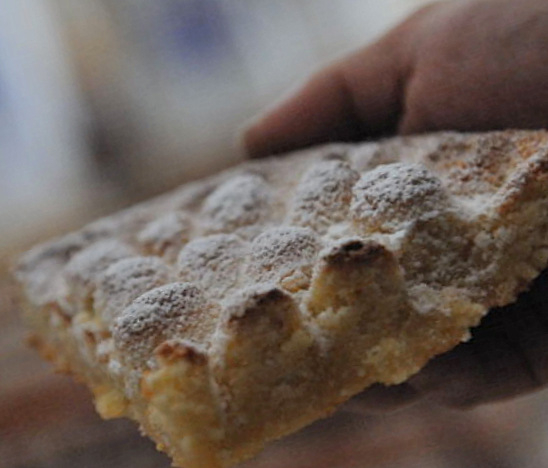 But ironically, in Orihuela, those who lead us most into temptation are in fact those who spend their own lives fighting temptation, the religious orders who inhabit some of the glorious Baroque convents which make Orihuela such an enjoyable place for those with an interest in history to visit.

Although the sisters have chosen to devote their lives to God, they also spend a large proportion of it creating tempting indulgences for the rest of us, as their main form of income throughout the year comes from baking a variety of mouthwatering sweets and cakes, using traditional recipes passed from one convent to another.
In Spanish culture, those who wished to thank a neighbour for an act of kindness, or pay for the services of a friend without wishing to offend, would buy sweets from the convents, supporting the religious orders as well as giving a gift which was highly prized, sweets of this nature a luxury item in a mainly agricultural community where wages were low and indulgences few and far between.

These sweets made by the nuns are laborious to prepare, and involve a great deal of manual labour: before mechanisation delivered almonds ready ground into a malleable dust, almonds had to be shelled, blanched, roasted and ground before the processes to make them into sweets could even begin, jams boiled and bottled, and sugar ground for dusting the finished product, labour intensive work which required time and patience.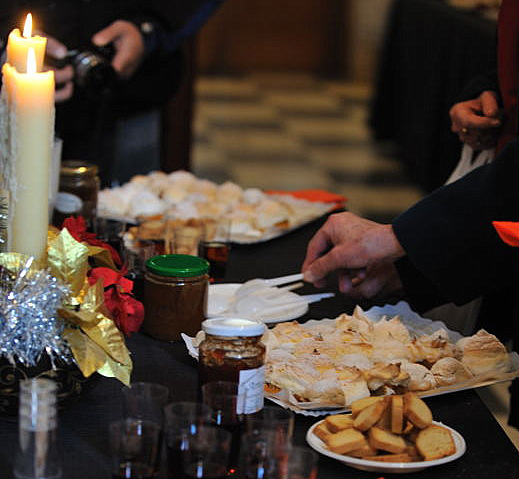 Many of the recipes are based around traditional luxury ingredients, almonds being the main base from which many of these popular recipes were made, and indeed, continue to be made today in the convents which still fill the historic streets of the old quarter of Orihuela.

There are two convents which are open throughout the year in Orihuela, selling hand made sweets and jams, perfect gifts for special people or for somebody who would really appreciate that this jar of jam was made by nuns in a Spanish convent. Or if the truth be told, as a pleasurable treat for yourself: these little melting biscuits, cakes and sweets are absolutely delicious and once sampled, will become a regular feature of a shopping trip into town, or the perfect place to take a visitor looking to sample a true taste of Spanish tradition.
Orihuela tourist office run special convent sampling routes just before Christmas, when purchasing these sweets is a mandatory part of Christmas for every Orihuela resident, but will also be happy to help groups arrange visits as part of cultural tours of the city. ( Click Orihuela tourist office)

The two shops can be visited independently throughout the year: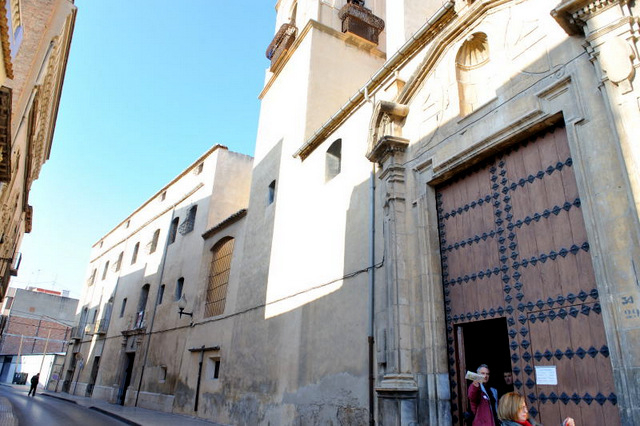 Monasterio de San Juan de la Penitencia (Hermanas Clarisas).
Location: Calle Antonio Pinies
Click for map, Calle Antonio Pinies
Shop opening hours:
Monday to Friday 9am to 1pm and 3.30pm to 7pm
Saturday and Sunday 4pm to 7pm

The Monastery of San Juan is home to the Clarissas nuns ( the Poor Clares, an order originally founded early in the 13th century) and is a huge, imposing baroque building, constructed in the eighteenth century on the site of a 15th century monastery. The building has a curious curved shape, the reason for this being that the religious orders built their convents outside of the city walls, and this building followed the route taken by the water irrigation channel it backed onto.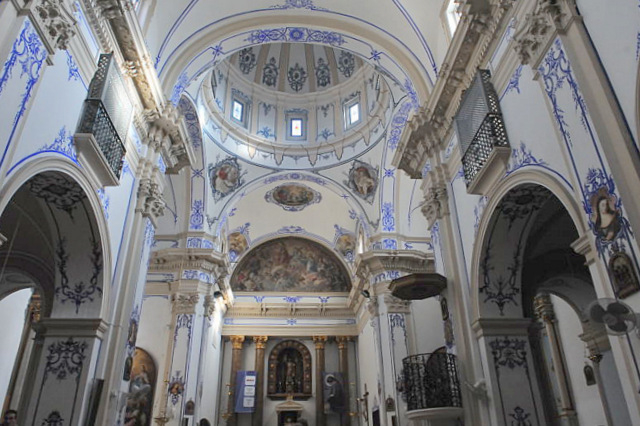 Visitors to the shop may be permitted to look inside the church itself, and if this option is offered, make sure to look at the image of the Virgen de la Esperanza in friont of the altar. She's a small sculpture set on a pedestal, but is a very rare subject, as the virgen is heavily pregnant. There are only 2 known versions of this in the whole of Spain, a country absolutely riddled with virgins, so this is a very special little sculpture and well worth a look if the nuns will allow you into the chapel.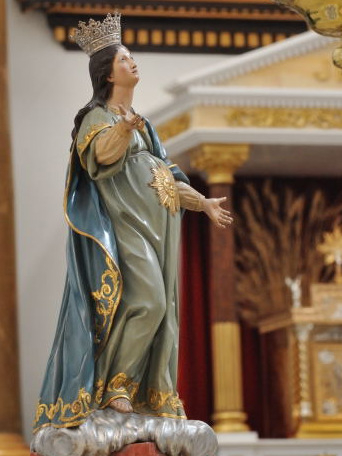 This particular convent is famous for its "Tarta de Santa Clara".
This delicious tart is made almost entirely from almonds, yet is sweet and light as well as crunchy. This tart is only made by special order as it takes 3 days of laborious preparation to prepare, but when surplus is on sale, it can be bought in large slices which represent a quarter of a tart. It works out at around 6 euros a wedge as it's almost entirely made from ground almonds, but only a thin sliver is required and it is superb accompanied with a glass of sweet Jumilla "vino dulce" or Moscatel. Moscatel is ridiculously cheap, and is available in most supermarkets and bodegas at around 2 euros a bottle, the perfect partner to these sweet seasonal treats.
The convent also offer other boxed sweets, most of them marzipan based.


Convento de la Trinidad (Hermanas Dominicas – Dominican nuns).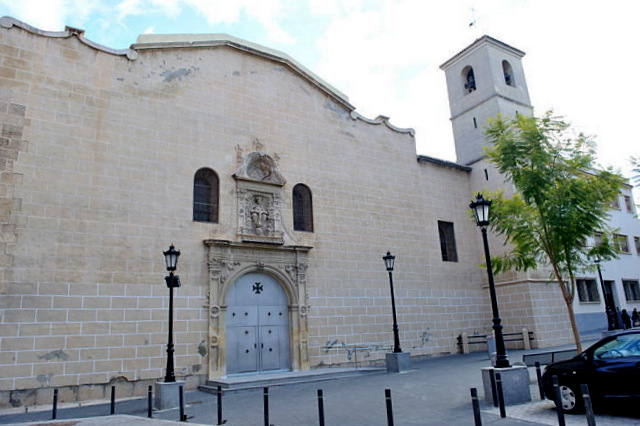 Location: Plaza de la Trinidad
Shop open throughout the year:
Monday to Saturday 10am to 1.30pm and 4.30pm to 6.30pm
Sunday 11am to 1pm
Click for more info and map, Convento de la Trinidad, Orihuela
NB. The shop is on the side of the church, not the front. The church itself is usually closed, so it may look as though there's nobody there, but walk around the side and you'll find the shop.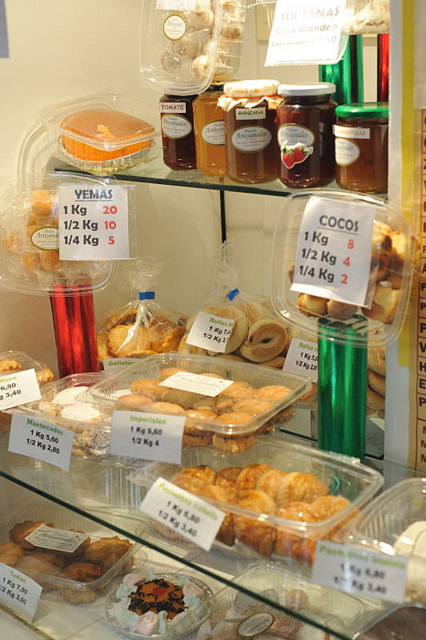 Only 7 nuns inhabit this vast building, earning their living by making and selling cakes, jams and sweets.
The variety of products on offer here is greater, as the nuns make a mixture of sweet crumbly biscuits, marzipan sweets and other cake-based sweets.

Zamarras, chatos, pasteles de gloria and tarritos de mermelada are their best known creations, filled with sweets, yemas, which are egg yolks and melting home-made jam, sold in boxes of half a kilo or kilo, as well as in mixed boxes with a mixture of different pieces to sample.

Prices are very accessible: 3 euros for jam, lovingly bottled and labelled, 4 euros for a half kilo mixed box of different sweets and biscuits to sample, then each type sold separately.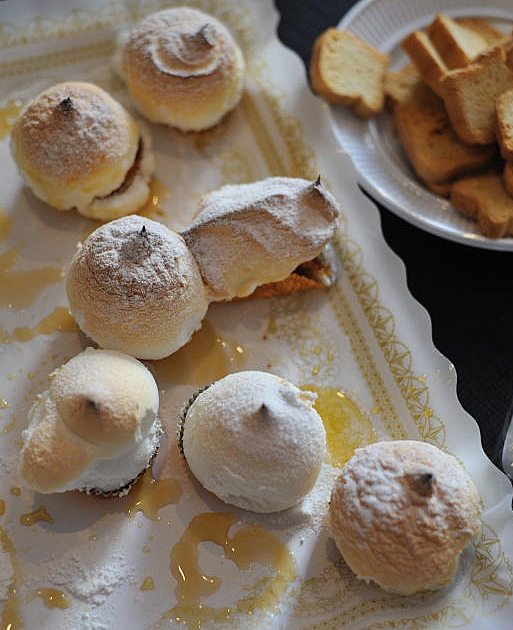 The Ed was privileged to visit on a sampling tour and was treated to a "pastel de Gloria" a stiff, soft meringue atop a melting egg yolk delight, the "tart of glory" also known locally as " "tetas de Monja" or nun's breasts due to the suggestive piping of the softly mounded meringue topping. A real treat if there are any in stock, also made to order for special occasions.

So don´t miss these sweet treats if you're visiting Orihuela, they're a superb souvenir and the only source of income for the nuns who will gladly lead you into temptation if you step foot inside these 2 Orihuela convents.

article_detail
Contact Murcia Today: Editorial 966 260 896 / Office 968 018 268