Climbing and Caving in Orihuela
Orihuela offers superb climbing opportunities for enthusiasts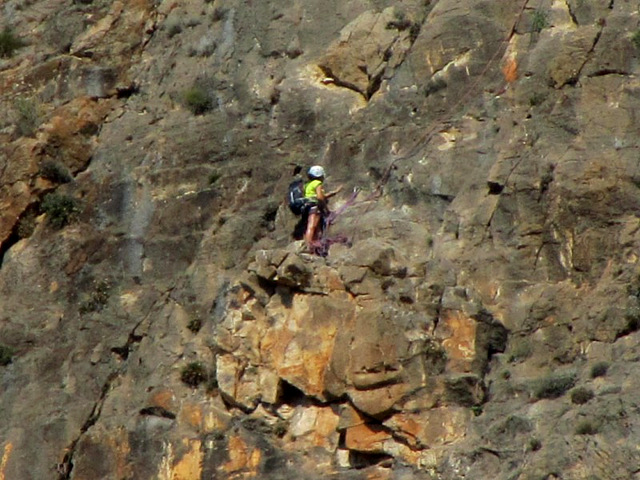 Despite the fact that most foreign visitors are attracted to the municipality of Orihuela by the coastline, and that the sports most commonly associated with the area are nautical, the mountains lying inland provide a stern test for even the best rock climbers.

The area where most serious climbers congregate is the south face of the Sierra de Orihuela, where the near-vertical routes feature grey and reddish limestone of variable quality. The first routes were established in the 1970s by climbers such as Miguel Ángel Gallego from Murcia and others from Alicante, who trained here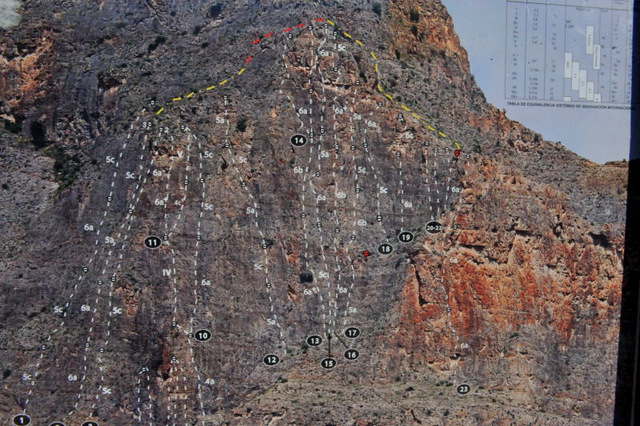 for their assaults on some of the most spectacular ascents on the planet such as the Naranjo de Bulnes and the Yosemite climbs. Nowadays a new generation of climbers, equipped with parabolts, are using the same routes for climbing competitions.

Perhaps the best known ascent is the "Pared Negra" (Black Wall), which looks out over the Palmeral de San Antón to the west of the city of Orihuela itself, where various routes of between 60 metres and 150 metres are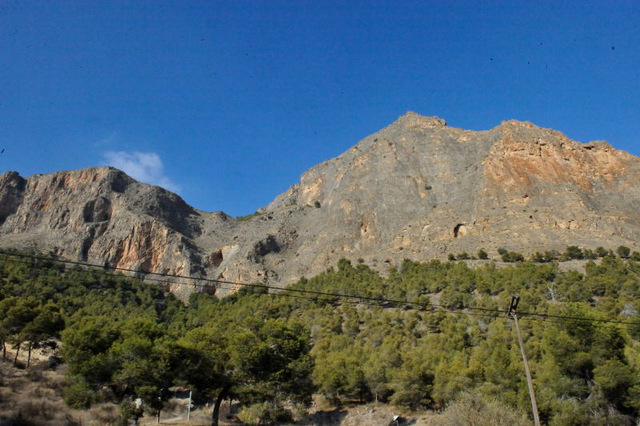 available for the intrepid climber. There is no fresh water available here, so go well stocked!

Other challenges are the Pared Grande in Raiguero de Bonanza, near the San Cristobal leisure area, the Pared Roja in the same locality, the Moimot near the border between Orihuela and Murcia, and the Pared Frontal opposite the Red Cross station near the Barrio de San Isidro.
Other favoured locations for climbers are the "Sector BM" which lies over the tunnel on the N-340 road to the north of the city and the "Triángulo Rojo", next to the Pared Negra.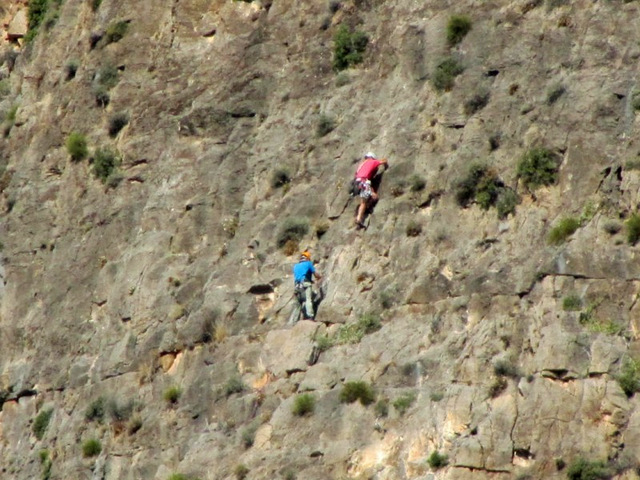 Those adventurers who prefer to take their risks under the ground rather than on rock faces will be interested to visit the Cueva del Calor, which is near the Castle of Orihuela and is the best cave for speleologists in the Sierra de Orihuela. The route begins in a gallery which soon leads into the "triangle", a narrow tunnel which can only by passed by crawling. After this there are a variety of shafts and galleries, each narrower than the one before.

Click to contact the tourist information office in Orihuela who will be happy to put climbers in touch with local clubs or guides. Click Orihuela tourist office
More information about the Orihuela municipality in the dedicated Orihuela section
Contact Murcia Today: Editorial 966 260 896 / Office 968 018 268