Date Published: 26/10/2014
Beware fraudsters. 8 things your bank will never ask you to do
Fraud is on the increase, particularly on the internet so be aware of potential scams
Fraud hurts and there's nothing worse than being ripped off by an unscrupulous conman.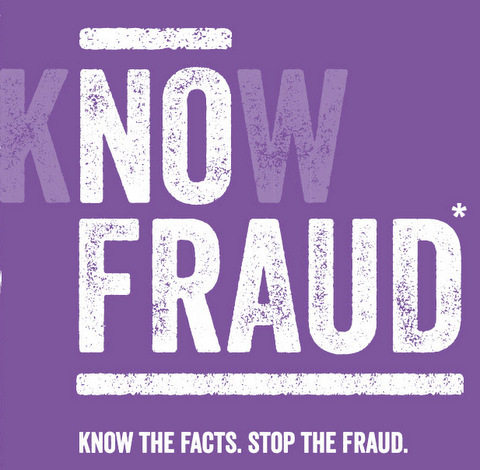 Although the internet is one of the most useful tools for rapid communication of information, it's also a minefield for the unwary and conmen are constantly finding new ways of stealing from internet users, particularly the elderly who are less aware of the pitfalls. In the UK fraud has increased by 17% in the last year alone, and the last calculation made estimated that fraud costs UK taxpayers over 6.1 billion pounds sterling per year. Here in Spain, those with UK bank accounts and emails are just as vulnerable to scammers, often even more so as so much daily communication is undertaken on-line and we are less likely to find out information about new techniques by which individuals are defrauded in the UK as quickly as if we were still living in the UK.

Email addresses are big business and are constantly harvested for marketing purposes, so once your email address has been included in lists which are then sold on, it is inevitable that you will be bombarded by emails claiming to be from your bank, the police, the tax authorities, courts, courier companies, Paypal advising us we must reactivate our accounts etc, all of which are just scams.

This last week we've ourselves received messages advising us we must appear in court, have failed to pay fines, have inherited money, must reactivate Paypal accounts, confirm bank account details for bank accounts we haven´t even got, or must verify our bank details, all of which are nothing but scammers, so if you receive ANYTHING of this nature, mark it as junk and delete immediately.

Such is the scale of attempted fraud that the British Banking Association and police have launched a joint campaign to try and warn bank users about the possible scams to which they will be subjected under the theme of "Know fraud. No fraud."

The campaign says:
"Keeping your money safe is your bank's number one priority. That's why they've set up secure procedures to protect you from fraudsters. But these criminals are often sophisticated and their techniques are constantly changing. One such ploy is to pretend they work for the police or your bank.
Dangerous though this is, there are tell-tale requests a fraudster may make that your bank NEVER will. Knowing what these are can ensure you don't fall victim to such as an attack."

8 Things your Bank will never ask you to do…

Call or email to ask you for your full PIN number or any online banking passwords
Send someone to your home to collect cash, bank cards or anything else
Ask you to email or text personal or banking information
Send an email with a link to a page which asks you to enter your online banking log-in details
Ask you to authorise the transfer of funds to a new account or hand over cash
Call to advise you to buy diamonds or land or other commodities
Ask you to carry out a test transaction online
Provide banking services through any mobile apps other than the bank's official apps

If you suspect you've become a victim of fraud

Stop sending money. Tell your bank immediately using the number on their website or other communications.
Report the fraud to the police through Action Fraud either via the website www.actionfraud.police.uk or by calling 0300 123 2040 (textphone 0300 123 2050).
If you are the victim of 'share' investment fraud, you should also report it to the Financial Conduct Authority consumer helpline on 0800 111 6768 (freephone).
Beware of other scams. You are likely to be targeted again, particularly by firms offering to recover funds you have lost.

Common scams:
Vishing
In these cases a fraudster will say they are from the bank or police, and that a fraudulent credit card payment has been spotted or a card due to expire needs to be replaced. To convince the intended victim they are genuine, the caller will suggest the customer hangs up and calls the bank back on the number printed on the back of their debit or credit card. But the fraudster never actually disconnects the line so that when you call the real number you are still speaking to them.

Often the fraudster will then ask for the customer's PIN and then send a courier to the victim's home to collect the bank card, promising to provide a new one. By now the assailant has obtained the victim's name, address, bank details, card and PIN – enough to make large bogus payments.

If you have a suspicious call, if possible use another phone or wait at least two minutes for the line to disconnect before picking up and dialing again.

"Safe account"
Often criminals, posing as a bank, will instruct a customer that their account is under threat – usually from a corrupt bank employee or cyber criminals. They will be instructed by the "bank" to transfer money into a new "safe account" which is actually the fraudster's account.

Your bank will NEVER ask you to authorise the transfer of funds to a new account or hand over cash.

Test transactions
In some circumstances, criminals pretending to be from a bank might email a customer asking you to perform a "test" transaction online, sometimes claiming there is some technical issue on their account.

Your bank will NEVER ask you to carry out a test transaction online.

Courier fraud
Often a follow-up to vishing (see previous), having posed on the phone as a fake bank employee to extract key security information – such as a customer's full PIN code – the criminal my also say that they are sending an official courier to their home to collect the corresponding card. These couriers will have "official" identification.

Another courier fraud ruse is for the criminal to pose as the bank in order to ask the victim to participate in a fake police investigation, usually involving a corrupt bank employee who has been stealing from customer accounts. Typically the customer will be asked to withdraw substantial sums of money over the counter at their bank without arousing the suspicion of the staff. They are then told to wait at home for it to be collected by a courier for safe keeping.

Your bank will NEVER send someone to your home to collect cash, bank cards or anything else.
Paypal
Paypal will never email you and ask for account details to be verified or re-activated. Never use a form alleging to be from Paypal, always go directly into your Paypal account, never via an email alleging to be from Paypal.

So be aware, fraud hurts, so don´t be a victim.
Contact Murcia Today: Editorial 966 260 896 / Office 968 018 268