ARCHIVED

- August 7 to 15 Annual fiestas in the Alhama de Murcia village of Gebas
ARCHIVED ARTICLE
The fiestas of Gebas in the Sierra Espuña are in honour of the Purísima Concepción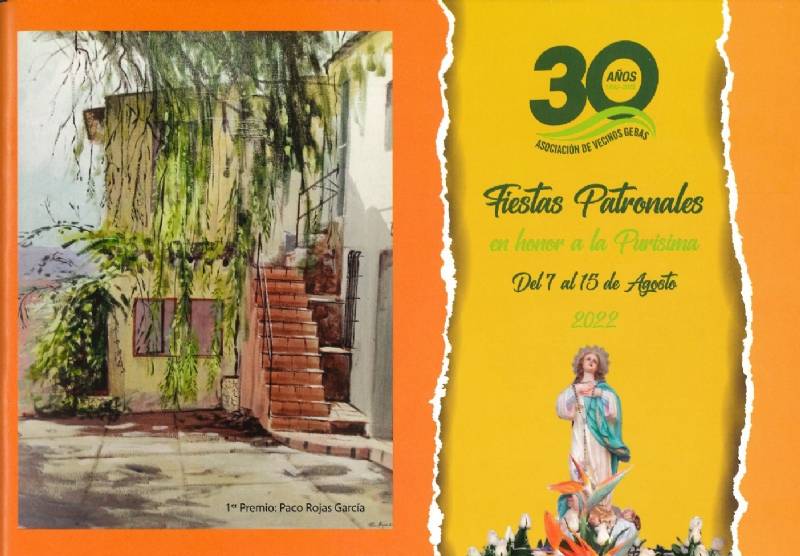 Between the 5th and 15th August the outlying district of Gebas in the municipality of Alhama de Murcia is holding its annual fiestas, with a mixed programme of activities for residents and visitors to enjoy.
All of the activities take place by the little social centre and church, looking out over the valley. The easiest map to follow is that leading to the Mirador of Gebas, which gives views across the Barrancos de Gebas.
Program for the fiestas of Gebas 2022
Sunday August 7
8.00: Walk to and from the village of El Berro, with the first 100 people registered to take part receiving a free hat! Walkers can opt to make only the outward journey, and the offer is open to take part in the collection of plastics and litter along the route, with prizes for the three who collect most.
The walk starts at 8.30 with a stop for a late breakfast by the campsite of El Berro. Bring your own lunch!
Price 5 euros, including refreshments and free t-shirts while stocks last. Registration at juanpablodegebas@gmail.com, fsotobernal@gmail.com, diegoandreocrespo@gmail.com, telephone 619 386295.
Friday August 12
Refreshments provided by the Asociación de Vecinos all day.
20.00: Official opening of the fiestas and of the arts and crafts exhibition .
21.00: Migas night, with the organizers supplying key ingredients as competitors prepare their dishes.
23.00: Music and raffle.
Saturday August 13
18.30: Nocturnal Alhama – Gebas – Alhama walk. Price 5 euros, including snack and refreshments. Further info at alhamacoym.blogspot.com.
19.00: Petanca tournament, registration 18 euros per pairing.
20.00: Treasure hunt organized by Animunis.
22.00: Dinner and dancing with music from Reyes del Sol' .
Midnight: Live rock & roll and blues music by "La banda Juárez".
Sunday August 14
10.00: Free breakfast for all, coffee, milk and chocolate with buñuelos.
11.30: Workshop in the regional park of Sierra Espuña, "El residuo justo". The activity aims to raise consciousness of waste and recycling. No registration required.
12.30: Foam party.
21.00: Fellowship meal, bring your own favourite food to help make a fun buffet!
23.30: Concert by Juan José Robles.
Monday August 15
20.30: Procession in hounour of "La Purísima", the patron of Gebas.
21.00: Holy Mass is officiated by Francisco Valera Telza, parish priest of the church of La Concepción, with choral offerings from La Edad de Oro.
22.00: Bread is handed out by the El Castellano bakery from Fuente Librilla, with ham supplied by the fiestas organizers.
22.30: The end of the fiestas is celebrated with a disco.
For more local events, news and visiting information go to the home page of Alhama Today.
Address
Tourist Office Alhama de Murcia, Plaza Constitucion. Frente Auditorio, nº 10, 30840, ALHAMA DE MURCIA
Tel: 968 633 512

Oficina de Turismo de Alhama de Murcia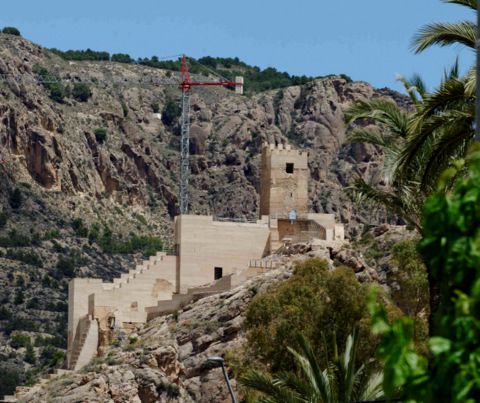 Alhama de Murcia Tourist information office is located on the edge of the Plaza de la Constitución, just a few metres away from the underground car park and the Town hall of Alhama de Murcia.
The tourist office offers free guided audiotours in English which take visitors around the historical sites of interest in Alhama. These be loaned at any time, although allow an hour and a half to complete the tour, and when loaning the audio equipment visitors are asked to leave passports or ID cards with the tourist office.
The office also carries a full range of leaflets for the archaeological museum of Los Baños, which is built around the historic spa which gives Alhama its name, and the mountains of Sierra Espuña, which is also an important area within the municipality of Alhama. Areas such as El Berro and Gebas have a number of interesting routes which can be followed and there are several picnic areas and good walking routes within the Sierra Espuña natural park.
The tourist office also carries leaflets for the many cultural events and fiestas which take place in Alhama throughout the year, including Los Mayos, Semana Santa, Christmas,the Romería of La Candelaria and the Auto de los Reyes Magos in El Berro.
Opening Hours
Winter (September 16 – May 31)
Tuesday to Friday: 9am-2pm and 4.30pm-7.30pm
Saturdays: 10am-1pm
Sundays and Mondays: closed
Summer (June 1 to September 15)
Tuesday to Friday: 9.30am-2.30pm
Saturdays: 10am-1pm
Sundays and Mondays: closed
For more local information, including news and forthcoming events, visit the home page of Alhama Today.
article_detail
Contact Murcia Today: Editorial 966 260 896 / Office 968 018 268