Ticks and canine ehrlichiosis, threats to the health of dogs in Spain

Ticks are particularly common in rural areas and gardens in the warm climate of southern Spain
In the south-east of Spain there are many kinds of tick which can cause considerable discomfort to dogs. These include insects both large and small, and hard- and soft-headed, and although in most cases the actual ticks themselves are not harmful, they are unsightly. An animal riddled with ticks is, after all, not a pleasant sight, and is also likely to be suffering considerable skin irritation.
Those walking their dogs in the countryside are advised to check their own skin after a walk, as the ticks appear initially like small spiders and cling to legs as they brush through the grass.It is also highly advisable to check dogs after walking through areas where there is livestock, as ticks are habitually found on sheep and goats and easily infest dogs.
Although unsightly and irritating, the most serious problem associated with ticks is that they can transmit diseases, among them canine Ehrlichiosis, the symptoms of which include fever, lethargy, weight loss, lymphadenopathy, bleeding, discharge from nose and eyes, and seizures. In other words, an animal can become very ill as a result of tick bites, and treatment is usually by means of prescription drugs used to combat.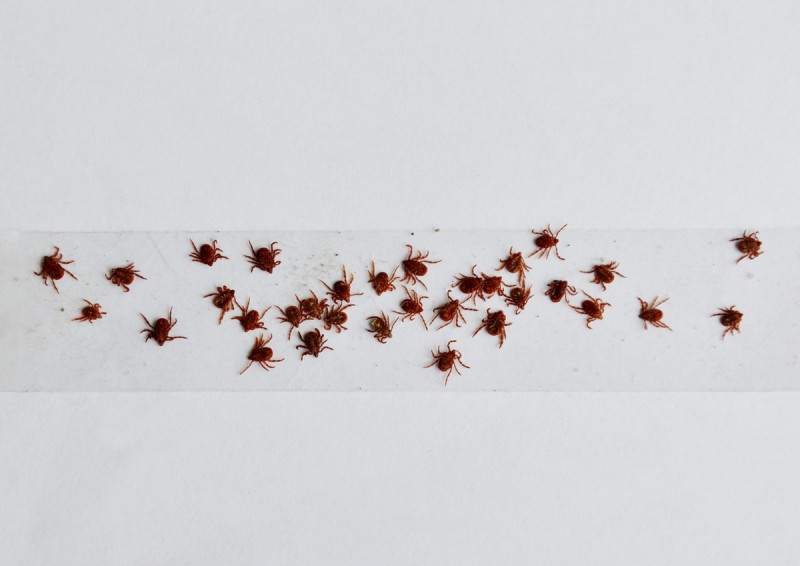 If treated before the clinical stage Ehrlichiosis can be cured almost completely, but if this is not the case prolonged haemorraging can lead to the death of the animal infected.
There is no vaccine on the market at present, and therefore prevention is even more important, especially for dogs living in the countryside or in gardens. Apart from regularly examining pets for ticks, owners are advised to purchase and regularly replace preventative collars such as those marketed under the name of Scalibor, which are effective in ridding animals of ticks and other insects and of preventing future infestations and infections.
The life cycle of a tick is one of the reasons that they are such a nuisance in the countryside, as the eggs turn into nymphs before becoming adults, and travel from one animal to another, on rabbits, foxes, birds, goats and sheep. A flock of sheep travelling several kilometres can therefore shed a large number of in any given area during a day's grazing!
The female tick of the Rhipicephalus can be a "carrier" of tick disease, and while sucking blood from a dog can infect her victim with Ehrlichia.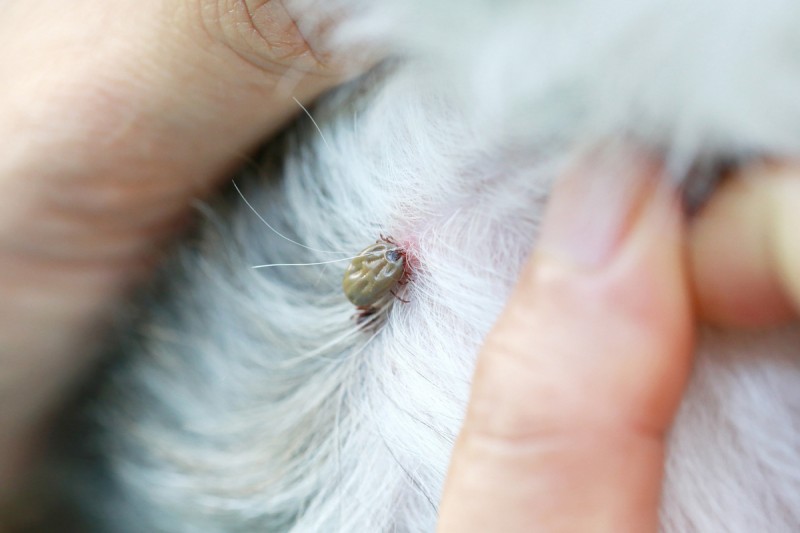 Removing a tick
The best way to remove a tick is to pull it off gently, leaving the tick and its mouth parts intact, but this can be difficult because some ticks cement their mouth parts into the skin. Every effort should be made to remove this cement if it does not come out with the tick.
Applying heat, alcohol, petroleum jelly or fingernail polish to an embedded tick is not effective, and vets advise the following procedure, which is complicated but effective:
Use blunt curved tweezers or a thread.
Grasp the tick as close to the skin surface as possible and pull upward with a steady, even pressure.
Do not twist or jerk the tick because this may cause the mouth parts to detach and remain in the skin.
Pull firmly enough to lift up the skin.
Hold this tension for 3 to 4 minutes and the tick will back out.
DO NOT squeeze, crush, or puncture the body of the tick because its fluids may contain bacteria.
After removing the tick, dab the skin with medial grade alcohol and keep an eye on the area for signs of infection.
Many people believe that the best method is to twist the tick anti-clockwise, basing themselves on the theory that the insect embeds itself in the skin clockwise, but veterinary advice does not contain this information.
article_detail
article_detail
Contact Murcia Today: Editorial 966 260 896 / Office 968 018 268