The Mar Menor will not be injected with oxygen this summer
ARCHIVED ARTICLE
-
Murcia does not plan to continue with its star lagoon oxygenation project as the Scientific Committee has not proposed new tests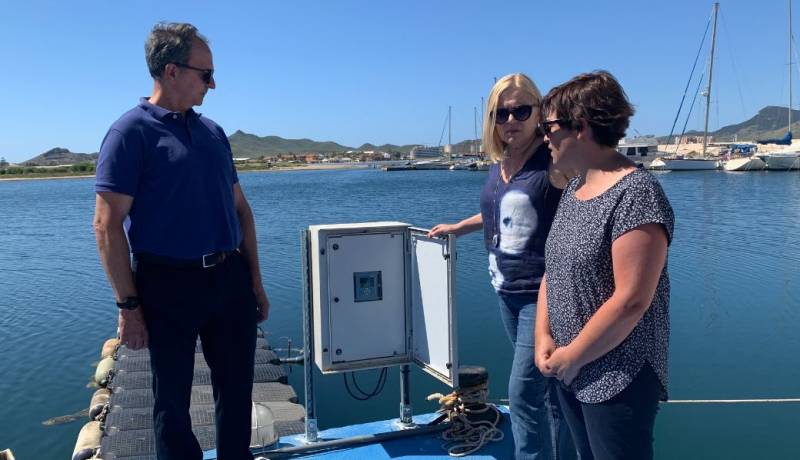 The
Mar Menor
saltwater lagoon is in threat of anoxia, i.e. a total lack of oxygen in the water, which in previous years has caused masses of fish and other animals to die of suffocation, washing up in dramatic and horrifying fashion on the beaches.
Tests to artificially oxygenate the Mar Menor were one of the Region of Murcia's star projects last summer to prevent possible episodes of anoxia. However, the trials, which lasted two months and initially produced good results, will not be continued this summer and for the time being there are no plans for any more oxygen injections in the Mar Menor.
The reason, according to the spokesman for the Mar Menor Scientific Committee, Emilio María Dolores, is that the group of researchers who carried out the test work in 2022 has not yet proposed new procedures to develop the technique for this summer season, when oxygen levels tend to drop.
"At the last meeting of the Mar Menor Scientific Advisory Committee, no proposal in this regard was put on the table," he stated.
Initially, there had been plans to map the lagoon to detect the most problematic points where there was the least amount of oxygen and to install artificial oxygenation devices there. The idea of testing a mobile system was also considered.
The results obtained with the fixed platform installed at the La Isleta de
La Manga
Yacht Club encouraged the researchers to consider a second phase of the tests.
In the end, it was found that artificial oxygenation had managed to increase the levels of oxygen in the water by 13% and concluded that it was possible to "improve the quality of the water".
The Coastal Ecology group of the Scientific Committee proposed a system that would be triggered when the concentration drops below four milligrams per litre, which is when episodes of hypoxia, or shortage of oxygen, are detected.
"Oxygen levels have improved significantly in a semi-confined area (the yacht club) where natural oxygenation due to currents is much lower than in more open areas."
Last summer's tests also showed that the water at La Manga Yacht Club also just looked better and was less muddy and turbid.
Thanks to the pilot program, in the summer of 2022 there was just one episode of hypoxia. It occurred in
Santiago de la Ribera
and unfortunately resulted in the death of several hundred fish due to low oxygen concentrations.
If the Scientific Committee proposes new tests between now and the summer, the artificial oxygenation of the lagoon may yet continue.
Image: CARM
article_detail
Contact Murcia Today: Editorial 966 260 896 / Office 968 018 268