The church of Bolnuevo in Mazarron
Home to the figure of the Virgen de la Purísima, the saviour of Mazarrón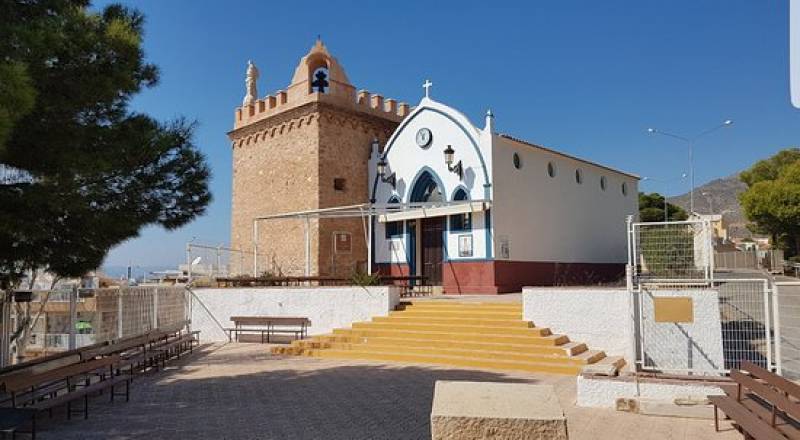 The small church of Bolnuevo is used only once a week for Mass (in Spanish), which is held during the winter at 10.30 on Sunday mornings and in summer at 21.00, as well as on major religious feast days. 
The most important role of the Ermita de Bolnuevo is as the home of the figure of the Inmaculada Virgen de la Concepción, who sallies forth in a Romería to Mazarrón every November to return a week later as part of the annual fiestas in her honour. This figure was sculpted by José Sánchez Lozano and replaced the one burnt during the Civil War.
Not long after the purchase of this figure another was commissioned and is now in the Iglesia de la Purísima in Mazarrón, while this one was moved to the church of Bolnuevo.
"La Purísima" is said to have saved the little town of Mazarrón from attack by Berber pirates when she appeared miraculously on the beach of Bolnuevo in 1585, terrorising those who were about to raid the town. Every year her intervention is commemorated by the Romerías in which she is first carried into Mazarrón and then returns on the first Sunday after the 17th, the subsequent celebrations being known among the expat community as Sardine Sunday as thousands enjoy their barbecues on the beach. 
The Ermita de Bolnuevo is attached to the Torre de los Caballos, a watchtower built to warn of impending pirate attack, which has been renovated for tourist visits.
The parish telephone number is 968 592302.
For more local information go to the home page of Mazarrón Today.
article_detail
Contact Murcia Today: Editorial 966 260 896 / Office 968 018 268