The Casa Cabrera in Abanilla

This huge residence illustrates the wealth generated by agriculture in Abanilla in the past
The Casa Cabrera is a palatial baroque residence in the centre of Abanilla, next to the parish church of San José, which was either built or widely remodeled in the 18th century. At the time it was a symbol of the wealth created by the agricultural activity in the area, which was controlled by the military and religious Order of Calatrava, but following the emancipations of ecclesiastical properties during the 19th centuries it ceased to be the home of the administrator of the Order in Abanilla and passed into private hands.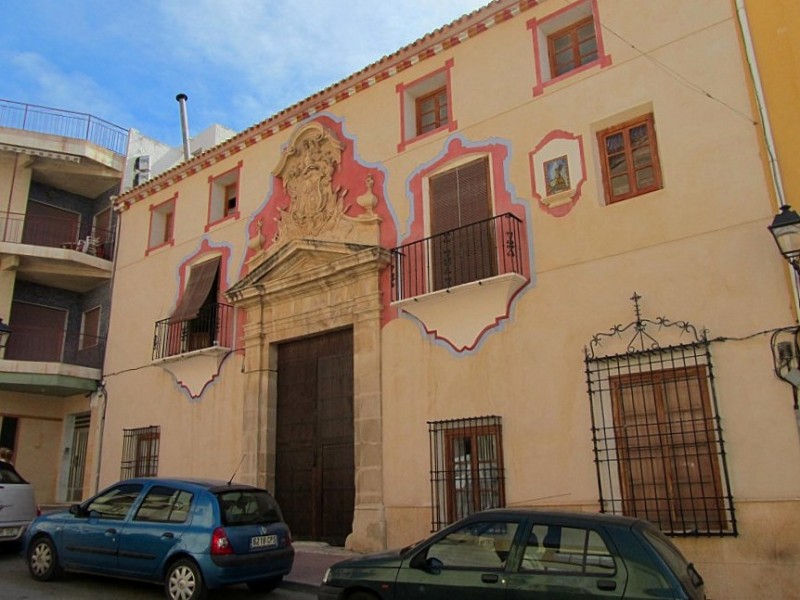 The huge property – it originally measured 1,600 square metres, and even now occupies over half of that area - is still in private ownership today, although it has been split up into smaller residences and divided among members of the Rivera Rocamora family. It was purchased by them in 1929 from the Requena family, who in turn are thought to have acquired it directly after the departure of the Order of Calatrava.
For this reason it is not normally possible to see inside, but the imposing façade is enough to give an idea of the grandeur and authority it represented in the past. The stone coat of arms of the Requena/Cabrera family above the main door is one of the largest in the Region of Murcia,(measuring 315cm by 85) and features the goat ("cabra") associated with the lineage.
When the family sold the property they reserved the right to remove this coat of arms, but in the end decided to leave it in place.
A small panel on the right-hand side of the façade shows an image of the Virgen de los Dolores.
Address: Calle Corazón de Jesús, alongside the church of San José (click for map location).
Click for further information about what to see in Abanilla, along with tourist information and agenda
Contact Murcia Today: Editorial 966 260 896 / Office 968 018 268