The Asian Tiger Mosquito in Spain
Tips to help limit the spread of this Asian invader
The tiger mosquito (Aedes albopictus), which is a native of India and south-eastern Asia, has now taken up residence in several Mediterranean coastal areas of Spain and is becoming established as a resident pest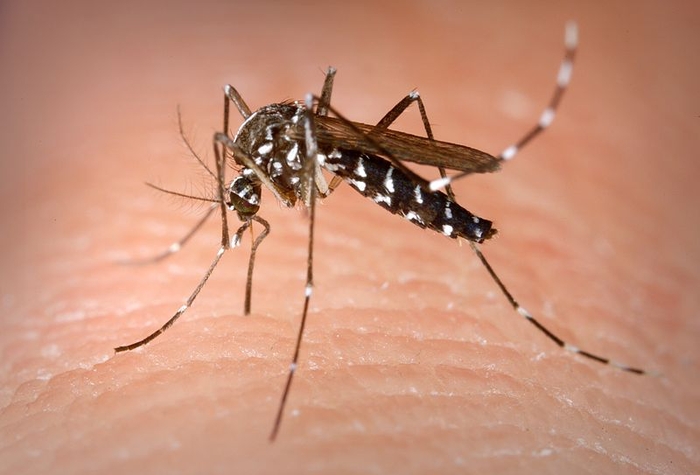 along the main Spanish costas. (Cataluña, the Valencia Region (Alicante Province Marina Alta) and Murcia (Spring 2015) have reported populations in Spring 2015)
It was first reported in Cataluña as far back as 2004.
Its spread throughout the Mediterranean has been gradual, but there are now established populations in France, Italy and Greece as well as in Spain and although campaigns undertaken by Spanish municipal councils attempt to control localised populations, there is no major initiative at national level to control the spread of this insect, meaning that it is only a matter of time before it penetrates right throughout Spain. As its eggs are able to survive winter cold and freezing temperaturas the mosquito  is set to disperse still further, aided by a general temperature increase: in the UK traps were set at motorway service stations in 2014 to try and pick up any travellers who have managed to hide in cargo, cars or campervans returning from the continent.
Populations are also well-established in Asia and other countries including the US.
The mosquito can carry more than 20 exotic diseases, including West Nile fever, dengue fever, yellow fever, chikungunya virus and two types of encephalitis and is strikingly distinct from other mosquitos due to its distinctive black and white striped markings.
Although it is important to understand that this mosquito has the capacity to carry these disease, it must be pointed out that in order for it to do so, these disease must be present in a mosquito carrying them in Spain: dengue fever and yellow fever are not currently present anywhere in Spain.
The Chikungunya virus is usually thought of as a tropical disease as the majority of cases occur in Africa, Asia, the Caribbean  and India, although other sporadic outbreaks have been reported in recent years in the Mediterranean in Italy and France. ( Italy 2007, 200 cases, one fatal, Var in France 2 cases in 2010 and 12 in Montpellier in 2014)
There is no vaccine for Chikungunya,and no effective anti-viral treatment, but the virus is rarely fatal, although it can cause complications in those with other pre-existing debiliating medical conditions and the more mature.
Infection causes fever, joint pain, fatigue, nausea, headaches and muscle pain, and treatment tends to focus on relieving symptoms. Most people recover within 7 to 10 days although swollen joints can continue for some months in extreme cases.
In 2014 266 cases of chikungunya were reported in Spain and by August of 2015 there had been 86 cases, 18 of them in the Valencia region, all imported via returning travellers.
The first case of chikungunya contracted in Spain was reported on 7th July in Gandia, Valencia Region. The patient made a full recovery.
 The body of the insect is 2 to 10mm in length and the size of the insects in any given area depend on the breeding conditions and food availability.
This mosquito is particularly bothersome as it feeds during the day, and is known as the forest day mosquito in some areas of Asia for this specific reason. The males feed on nectar and plant juices, but the females require blood in order to develop their eggs, and will bite human hosts more than once. Their bite is not noticeably different to that of other mosquito species, but they will bite multiple hosts including species of birds and mammals, which is why they are viewed as being more dangerous than other mosquitoes as they can transmit disease through this process, the technical phraseology for this being that the mosquito acts as a bridge vector for pathogens which can jump species boundaries( ie from one species to another).
Control of Tiger Mosquito populations
The tiger mosquito season normally lasts from May until September or October in Spain, although the peak month here is July, and breeding will take place near water. Water is an essential element of the larval development process, and as the Asian Tiger Mosquito has a relatively short flight range of only 200 metres, this means the areas where it is most widely found are near to a water source of some kind.
The female lays her eggs close to water, not directly in it, but only requires a tiny amount of water in which larval development can take place, so can easily breed in as little as an ounce of water.
The normal process is to lay her eggs just above the water line in a container or location where water pools: when it rains the eggs are covered with water and hatch, hence the most effective means of control is to ensure water is cleared away quickly after rain.
Although it can breed in running water, this is rare, and it prefers small pools of stagnant water. These are often found near to humans in artificial containers such as discarded water bottles, animal water buckets or drinking bowls, or containers filled for watering purposes which have not been sealed.
It also loves swimming pools which have not been emptied and left to go green. It's quite common for households to find some sort of container beneath foliage in the corner of the garden which has filled with rain during a Winter storm and has remained damp enough for nesting, so for this reason it is possible for all of us to take some simple steps to help combat the spread of the species in Spain.
It takes 10-14 days for adult mosquitos to energe from pupae.
It is "almost impossible" to completely eradicate the mosquito, according to specialists, but the population can be held in check.
Among the measures recommended are the following:
-    Don't leave excess water standing in saucers after watering pot plants or put fine sand in the saucers to prevent eggs being laid
-    Flush water through drains at least once a week
-    Constantly empty, wash and re-fill pets' drinking bowls or animal water troughs
- Check sagging drains, guttering, pipes or locations in which water could collect
-    Avoid leaving stagnant water of any sort in the garden as it is a breeding ground, so check tyres lying outside which could contain water after a storm( the mosquito is believed to have arrived in the US inside tyres), pots, containers as even the smallest can be an attractive breeding ground for this and other types of mosquito.
-    Empty unused swimming pools, ponds, wheelbarrows and buckets
Old wives' tale?
An old Spanish local once told us to pour olive oil onto the top of any water being stored as it prevents mosquitos laying their eggs in the water. He also grows lavender and lemon verbena close to the house as these are big deterrents, and he would crush them and rub his skin with the stalks to prevent mosquito bites after the rains. Aloe Vera was also a welcome addition to the back doorstep offering instant relief from bites or stings.
Do traps work?
There are various Ovitraps available for the control of Tiger Mosquitos, which simulate the breeding grounds chosen by the mosquito.
Simple prevention advice
Tiger Mosquitos are attracted to dark clothing, perspiration, carbon dioxide and other odours.
Wear light coloured clothing which covers as much of the body as possible if visiting an area with a large population of mosquitos.
Making sure mosquito netting is installed which will help to minimise the risk of being bitten.
Use mosquito repellant products.
Mosquito spraying is deemed to be largely ineffective against the Tiger Mosquito.
Insect zappers and fly papers are generally ineffective against this mosquito.
Follow Murcia Today on Facebook to keep up to date with all the latest news, events and information in the Region of Murcia and the rest of Spain: https://www.facebook.com/MurciaToday/.
article_detail
article_detail
Contact Murcia Today: Editorial 966 260 896 / Office 968 018 268