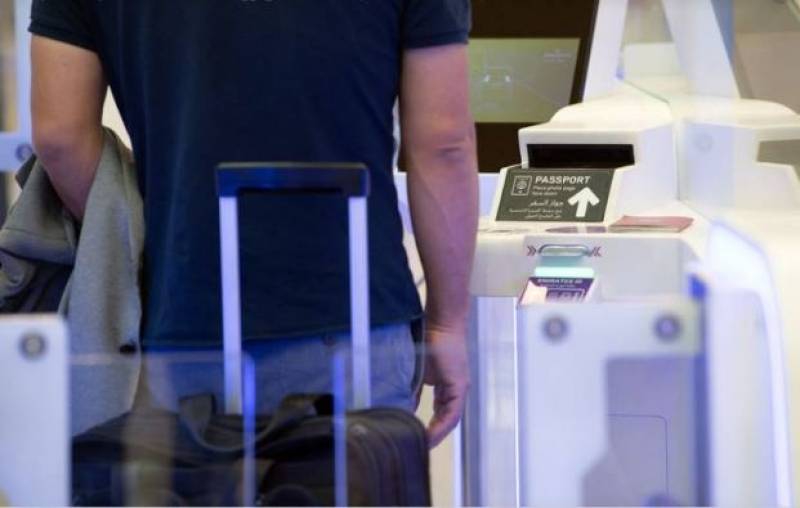 CLICK HERE FOR THE FEATURE ARTICLES "UK passport u-turn: Brits allowed to use EU eGates in Spain" and "Plane sailing: Ryanair cabin crew strikes"
Summer has officially arrived and although Spain is undoubtedly one of Europe's top destinations, many people might be thinking twice about booking that holiday this year as chaos reigns in the airports both at home and abroad.
Things are unlikely to improve much anytime soon either with easyJet and British Airways planning to join the party, adding to the disruption already caused by Ryanair strikes.
If you do manage to get on the plane, there's plenty of good news for British travellers, who learned this week that they'll be allowed to use the eGate passport scanners at Spanish airports once they arrive. This fast-track system is usually reserved for EU and Schengen zone visitors and should speed things up considerably.
Bummer holidays
The strike isn't having quite that dramatic an impact, however; in fact, all flights went off without a hitch on the first day and most Spanish airports have only experienced a few daily cancellations. Of course, there are some massive delays on flights too.
The cabin crew union has heavily criticised the airline for forcing its staff to work, and the Spanish government for allowing it.
According to reports, British citizens can now use the Automated Border Control eGates for Schengen passport holders at the following airports: Alicante, Barcelona, Bilbao, Girona, Gran Canaria, Ibiza, Lanzarote, Madrid, Málaga, Mallorca, Menorca, Valencia, Fuerteventura, Sevilla and Tenerife Sur.
A word of caution though: in response to the announcement by the Tourist Board, several travellers reported that they sailed through the eGates in no time at all in airports like Palma and Lanzarote, but more Brits reported that their passports wouldn't scan this week in Madrid and they had to resort to the long queues at border control.
This wouldn't be the first time the Spanish Tourist Board in the UK has made a blunder either: earlier this year, when the country was still in the grip of the sixth coronavirus wave, the deputy director mistakenly announced that unvaccinated Brits would be granted entry into Spain with just a negative Covid test. While that's true now, it wasn't at the time, and the organisation had to apologise for the devastating mistake.
So our flight eventually took off and we've flown through passport security in Spain in record time. It's time to kick back and relax, right?
Not so fast.
Spain's crackdown on drunken or disruptive tourists has been well publicised but many destinations are taking things a step further – a step too far, some would say.
The mayor of the town described a recent incident where two drunken men had to be pulled from the surf after a night of partying at a whopping cost of 6,000 euros to taxpayers, and said that the new measures are designed "to prevent these types of incidents from happening. The confrontational nature of this law is aimed at making people think twice."
That's not all though, as officials are also considering doling out fines to women who wear swimsuits or men who go topless on the streets. Likewise, gas cylinders and barbeques are banned from the beach, as is using shampoo or soap in the water, and tourists who leave their litter on the sand will be penalised.
Under the new bylaws, bathers who try to reserve a spot on the sand by leaving their towels will be fined, as will anyone playing with a ball and bat.
Chilly reception
It's certainly not a problem that is confined to Spain, but with inflation on the rise and businesses struggling through the post-pandemic economic rebound, it seems that unsolicited calls from all types of companies are never-ending.
This is where the Robinson List comes in: anyone can register for free and simply opt-out of receiving cold calls, texts or emails from businesses if they'd rather be left in peace.
If you've registered with the Robinson List and indicated, for instance, that you're ok with emails but not texts or phone calls, businesses have no option but to comply by law.
The trick is ever so simple but terribly effective: the target receives a missed call from a foreign number and if curiosity prompts them to call back, they are charged a fortune for their trouble.
The advice from the authorities is simple: if you don't recognise a number, never, ever call back.
According to the Guardia Civil, missed calls from the following prefixes should be avoided at all costs:
355: Albania
225: Ivory Coast
233: Ghana
234: Nigeria
Unfortunately, scammers are branching out onto Spain's roads too and the authorities have warned motorists of the notorious 'highway pirates' scam, whereby fraudsters convince drivers there is something wrong with their car in order to get them to pull over and rob them. Rental vehicles are more commonly targeted, and scammers have been known to go to such lengths as causing an accident or damaging the other car to pull off their con.
The journey is long, the weather is warm, so while driving south on the A1 ring-road the pair decided to stretch their legs and use the facilities at a McDonald's restaurant located at a petrol station in Madrid.
One of the travellers commented that another car had pulled right up beside their vehicle in the quiet car park, almost touching the door. Thinking little of it, the couple continued on their journey, only to discover they had a puncture a couple of kilometres down the road.
Parking in a safe lay-by, the couple was immediately approached by a man stopped nearby, who advised them they should erect a warning triangle close to their vehicle.
And so enter the highway pirates.
Although the would-be victim was busy directing traffic safely around her own car, she chanced to look back and discovered that a second man had joined them and was busy riffling through their belongings on the back seat. She shouted in alarm, and the pair fled in their own vehicle.
It was only then that the woman's husband realised that the car was the same model and colour as the one which had parked beside them at the petrol station.
Luckily, on this occasion, the travellers only suffered the expense of a new tyre, but things could have been much worse.
Rising dough
The statistics show that the main culprits for pushing up inflation have been fuel, food and non-alcoholic beverages, while the rebound in the prices of hotels, cafes and restaurants, now far higher than last year, have also played a part.
Staple grocery items rose by an incredible 11%, the highest they have been since January 1994, while many experts believe that the price of petrol and diesel will almost certainly break the 3-euros per litre barrier by the end of the summer.
The average household spent 29,243 euros on consumer products, of which almost a third (9,893 euros) went on housing-related expenses like rent, electricity, water and gas. The second largest expenditure was food, which sapped 4,806 euros from the budget, followed by transport (3,230), restaurants and hotels (2,288) and leisure and culture (1,293).
With prices only going up, it's difficult to blame people being a little peeved, and the sharp increases have hit farmers particularly hard. The changeable weather so far this year, one minute scorching, the next pouring down, has wrecked havoc on already temperamental crops, and now skyrocketing electricity and diesel costs are strangling them.
Just last week, representatives from the farming community in Spain warned about the "critical" state of the sector, which has amassed losses of more than 32 million euros already this year. With fuel and electricity bills continuously rising, prices "are unaffordable for agricultural holdings and farmers."
Last March, truckers across Spain went on strike for 20 days, causing untold disruption to virtually every industry in the country and the industrial action only came to an end when the government vowed to remedy the situation. The deadline is fast approaching, however, and drivers have threatened industrial action once more if the decree doesn't materialise in the coming days.
Coronavirus
He did acknowledge, however, that the increase in hospitalisations is "significant," general admissions have climbed to 573 in the last few days although ICU occupancy has dropped by three patients, indicating that the health services are still under "minimal pressure."
For all the latest coronavirus news and updates in Spain, use the following link: CORONAVIRUS LATEST NEWS
Murcia
Bus and metro users will pay almost a third less for their passes from September 1 thanks to direct aid from the Spanish government as part of its crisis plan for the war in Ukraine.
Using Next Generation funds, the local authorities will also build 43 km of bus lanes in Murcia along with 44 km of bike lanes, which will generate 100 new kilometres of bicycle paths in the municipality.
In addition, the government will create more than 2,400 spaces in six new park-and-ride facilities.
And there has been welcomed news for motorists too this week with the arrival of summer and a relaxation of parking requirements during the high season.
Motorists don't have to pay to park in blue zones on Sundays or bank holidays and from August 1, parking will be free every day.
According to councillor Juan Fernando Hernández Piernas, around 150 businesses have extended their outdoor terraces to adjoining parking spots throughout the municipality, added to more than 400 that had the authorisation pre-pandemic.
The council initially agreed to let bars and restaurants expand into the streets at the height of the pandemic, and now the measure will continue until the end of 2022 with the option of applying for another one year extension after that.
However, the move hasn't gained unanimous support, however, and several political parties abstained from voting until complaints from neighbourhood associations are evaluated, which have criticised the lack of parking in the municipality.
Spokesperson for the Scientific Advisory Committee, Emilio María Dolores, explained that technicians have been removing biomass for several years but at values "much lower" than today, mainly because "this year there is a greater proliferation of algae" as more harmful nutrients make their way into the Mar Menor.
But the good news is that the situation appears to be somewhat under control; on Monday June 27 technicians took water samples from 45 different areas of the Mar Menor and reported that oxygen levels were "normal."
Fire crews worked for an hour to free the two women from the wreckage, but tragically the passenger died on impact. After being freed and stabilised by an 061 medical team, the driver was taken to Virgen de la Arrixaca hospital in Murcia with "very serious injuries".
According to eye-witnesses, the octogenarian was tossed from a minivan at La Isla, next to the la Ermita bar, which proceeded to run over him and flee from the scene in the direction of Bolnuevo.
Detectives investigating the case believe that the elderly man was tricked into getting into the car and subsequently robbed before his captors threw him out of the moving vehicle. Officers are now trying to track down those responsible, who will face murder charges.
A short while later, Murcia Local Police dealt with two other incidents involving drunk drivers who were both arrested, one of which led to a crash in Avenida Ciudad de Almería when the driver smashed into a lamppost. The car was badly damaged but nobody was hurt.
Nothing is set in stone and lots can change before the scheduled event on June 23 and 24, 2023, as was demonstrated by the late withdrawal of Whitesnake shortly before their anticipated appearance this year, but this represents a great coup for the organisers of the 2022 festival.
The first tickets for Rock Imperium 2023 are already on sale and can be purchased through the website rockimperiumfestival.es.
Check out our EVENTS DIARY to see everything going on in Murcia:
Spain
The airline's ground staff are demanding a reversal of the 10% pay cut they took at the height of the coronavirus pandemic, when some 13,000 workers were let go by the carrier, allegedly heaping even more pressure on the remaining employees.
BA has responded by offering a one-off 10% bonus but this has been roundly rejected.
No dates have yet been set for the strike action, with the unions hoping that BA will come up with a better offer for staff, but if it goes ahead it is expected to happen at the end of July and August.
In addition, the ever-generous government is offering aid of a whopping 200 euros to self-employed business people whose family units bring in less than 14,000 euros per year, and non-contributory retirement and disability pensions will be increased by 15%, which represents an extra 60 euros every month.
The incident has been called a "massacre" by Algerian authorities and has caused outrage across the globe, with hundreds of people demonstrating in cities in Spain against migration policies in the aftermath of the tragedy.
In Madrid, a rally was held in Callao, where scores of people chanted "no human being is illegal".
As expected, the NATO summit discussions were dominated by the Russian invasion and the threat posed by Vladimir Putin, but the pending membership of Finland and Sweden was open for debate, as well as the extension and reinforcement of the alliance's troops on European soil.
According to official reports, the Briton began the difficult climb with a pal the previous day and decided to try and reach the top by himself after his friend turned back.
It is believed that the young Brit may have been trying to descend from Devil's Pass when a storm hit, making the way treacherous.
Alicante
With summer fast approaching and the imminent arrival of a rush of tourists growing ever closer, coastal towns across the province are busy getting themselves beach ready.
Benidorm is arguably the tourist capital of the Costa Blanca, and the resort's summer population is expected to increase three-fold during the height of the holiday season in July and August.
The cleaning fleet has also been boosted with an additional two rubbish collection vans and extra shifts have been introduced to clean and pressure wash pavements. During the night, a cleaning team will also hit the streets to do the same and spruce up leisure areas, parks and gardens for the early risers.
Alicante City & Beach Tourist Board is currently looking for someone to manage the pet-friendly beach services until 2025 and has put out to tender a three-year contract that this year includes an additional food truck and terrace along with regular seasonal features such as a bar, sunshades and loungers for beachgoers and their furry friends.
"The 'Doggy Beach already has a lifeguard and rescue service from June to September and a dog park, so this tender for the food truck and the parasol area would be a complementary service that would vastly improve the canine beach," explained deputy mayor Mari Carmen Sánchez.
And as seasonal populations soar with the arrival of overseas visitors, so too does the volume of traffic on the province's roads, in particular the A-7, the busiest section of which is undergoing a 7.4 million-euro revamp.
The A-70 has an annual average daily intensity of more than 50,000 vehicles along its entire route, but on the section between the access to San Vicente del Raspeig and the University of Alicante and the junction with the A-31, at the height of Mercalicante, it reaches 100,000.
The motorway improvements, which began this week, are expected to take seven months, and will be carried out at night to reduce disruptions to motorists.
Laser technology incorporated into new generation speed radars adopted by Spain's DGT in 2018 has opened up a whole new world of road surveillance for police, allowing them to measure the speed of vehicles literally anywhere they want to.
And in Crevillente, the "sneaky" use of one of these Velolaser speed radars has sparked outrage after a photo of the device and a Local Police officer hidden between a large waste container and a recycling bin was shared by SocialDrive on Twitter.
Most of the comments from social media users have been of "indignation", with one suggesting that the concealment of the radar "only seeks to punish economically rather than ensure safety on the road".
"I will never understand... the radar 'is for our safety' but you allow the manufacture of cars that reach speeds of up to 300km/h to drive on roads where it is prohibited to drive faster than 120km/h...Is (the radar) for my security or is it to raise money?" questioned a tweeter.
The shopkeeper, named only as Pedro, was arrested five years ago for holding up seven banks across the Region of Murcia and neighbouring Alicante and became infamous for using the same revolver sported by Clint Eastwood in the 'Dirty Harry' films. After escaping from jail, Pedro spent four years evading capture, outwitting law enforcement at every turn.
Astonishingly, through a series of disguises, he was able to continue running his greengrocer business in the Alicante town of Hondón de los Frailes, where he was eventually nabbed over the weekend.
The suspect was finally tracked down and has been put behind bars, along with two accomplices accused of helping him to hide in the Vega Alta de Segura region.
Working in collaboration with the HSI (Homeland Security Investigations) of Buffalo (USA), the Guardia Civil raided three properties in Alicante and El Campello, one of which turned out to be a drug laboratory where police seized 45 kilos of methamphetamines with a chemical composition compatible with Alpha-PHP, a modification of the 'zombie drug'.
The organisation apparently set up a website with a domain located in Germany that took "thousands of orders", which after being paid for in cryptocurrencies were prepared and sent by post.
The activities have been thwarted by police and two men and a woman, all of Czech nationality have been arrested.
Andalucía
The suspect, identified only by his initials OBP, was the subject of an International Arrest Warrant sent to more than 30 countries by Interpol NCB Manchester, which is part of the UK's National Crime Agency.
The animals were found in an enclosure in Cortijo Maroto in the Malaga town of Rincon de la Victoria back in 2017, crawling with lice and ticks, malnourished, suffering from horrific ailments and living in their own filth.
Even though the dogs were taken to another reputable shelter and nursed with every care, the vast majority of them didn't make it.
In addition to the prison sentences, all three perpetrators have been disqualified from any trade or profession related to animals and from owning pets for a period of three years. They have also been ordered to compensate the second shelter for the costs associated with caring for the neglected dogs.
A 22-year-old driver and two teens aged 15 and 16 died on the A-374 after fleeing a police checkpoint in Ronda, Malaga.
Officers tried to flag down the Mercedes sports car in which the three young men were travelling when they spotted one of them throwing something out of the window but the driver failed to stop, instead speeding away along a dimly-lit, tree-lined road.
The police lost sight of the car but minutes later, a call came in from Ronda Local Police reporting a serious crash involving a Mercedes at kilometre 30 of the A-374, an area known as La Dehesa.
The vehicle had careered off the road and plunged down a 15-metre embankment, and the three occupants were trapped inside the "mass of iron wreckage".
Ronda Police confirmed the driver and two passengers were "in a bad state", and Emergencies activated the entire rescue protocol with firefighters, medical and law enforcement personnel. On arrival, there was nothing medics could do but confirm their deaths.
The newborn is not believed to have been delivered at a health centre or hospital and the "white mother" didn't follow normal Andalucían Health Service 'pregnancy protocols' as there is no record of the birth, according to the Guardia.
In addition, the landfill where the baby was found collects waste from all the towns in Campo de Gibraltar, as well as Ceuta and Gibraltar itself, which "makes it difficult to locate the mother of the child due to the wide search range".
"We are hoping that members of the public can provide new information to help locate a white woman who was in an advanced state of pregnancy at the end of May and who does not currently have any babies in her care," said police.
You may have missed…
That's all from us for this week. If you like reading your weekly bulletin and know someone else who might want to read it too, you can send them this link to sign up and start receiving the email too: https://murciatoday.com/weekly_bulletin.html
See you next week!
Got a business in Spain? Advertise with us.
Murciatoday.com and its affiliated Spain Today Online sites can help bring your business to a wider audience – over 350,000 unique readers every month. We'll provide you with custom-made banner ads, a personalised listing in our Business Directory and special feature articles about your particular business niche.
Don't limit yourself to the yellow pages. Get online! After Covid, can you afford not to? Contact us today to find out how we can get wider exposure for your business.
Contact Murcia Today: Editorial 966 260 896 / Office 968 018 268