Spanish living: Gas bottle basics
Transporting gas bottles, prices, how many bottles and where should they be stored
Most people who live in Spain or visit the country will at some point find themselves using the butane gas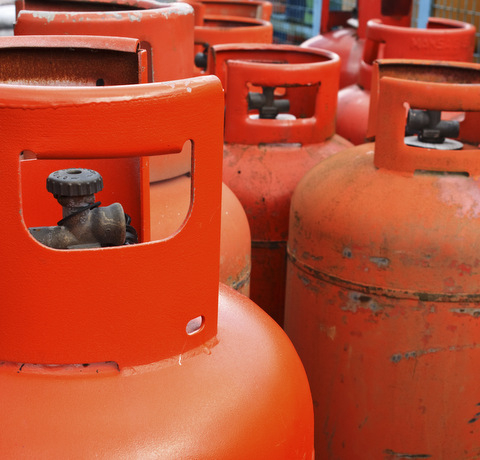 canisters which are sold in petrol stations and other establishments throughout the country, either for cooking and water heating – mains gas is far from universal in Spain – or in gas stoves which provide an efficient and effective alternative to radiators during the winter.
However, doubts over some of the rules and regulations regarding the use of this kind of fuel are numerous, and it's useful to bear in mind various factors when buying and using butane canisters.

Obtaining a contract for a gas bottle
The first point to bear in mind is that, in theory at least, in order to purchase a canister from one of the authorized suppliers – Repsol, Cepsa and Galp Energia are the main ones – it is necessary to have a contract. This contract is not hard to obtain, and is not expensive at approximately 20€, and by having one the user obtains various benefits.
One of these is that if the contract with the supplier is linked to a fixed address, then new canisters will be delivered to your home free of charge( within reasonable limits and on a delivery run schedule). This rules out the need to go out and find a replacement when one canister runs out, and is very useful for those who find it difficult to lift a full bottle of around 20 kilos (12.5 kilos of gas plus the bottle itself).
This service tends to be the norm in towns and cities although campo dwellers may find enthusiasm to deliver to the middle of nowhere a little thin on the ground. Technically, the company should be willing to do so as part of their obligations when obtaining concessions, although readers have reported difficulties in various areas of the country on occasions.
In addition, a contract acts as a kind of insurance policy against the possibility of accidents or repairs being needed to the apparatus to which the gas bottle is attached: the agency with which the contract is drawn up will carry out periodic reviews of all installations at least every five years, ensuring that safety considerations are correctly observed. (Please note, this is a paid service, so is regularly abused and is at the core of most of the gas scams perpetrated in Spain. Click here to read full information about gas scams in Spain)
However, not all users of "bombonas" of butane have a contract. When an empty bottle is exchanged for a full one it is extremely rare for the vendor to ask to see a contract, and many customers don't see the need for one.
This situation can arise, for example, when a new owner buys a home in which a gas bottle already exists, or in many other ways, ( gas bottles are regularly advertised as being for sale on second hand pages and at bootfairs etc) and although in theory all customers are obliged to have a contract with the supply company, in reality, as with many things in Spain, this is far from being the case.
Those who wish to take out a contract can do so with the following documents:
A photocopy of DNI or NIE identity documents.
If the property concerned is new, a "cédula de habitabilidad" (habitation certificate).
Gas installation certificate (if the apparatus in the house is immovable).
Heating installation certificate where applicable.
The next step is to supply photocopies of these documents to your local supplier agency. A technician will then visit your home to inspect any permanent gas fittings prior to the contract being issued, although again, they often don´t..
Liquid gas can be delivered to larger installations with gas fired heating systems, so ask around locally to find out which companies offer this service in your area and if intending to install a gas-fired system, check out where supplies come from in advance.
Mains gas is being installed in many areas of Spain, so again, check out your local situation before buying appliances etc.


Safety rules for butane gas bottles
Canisters with a safety valve should always be stored in an upright position.
The cupboards in which bottles are stored or used should always have openings for ventilation at the bottom.
Replacement bottles should be stored in a different room from the one which is in use. This room should be well ventilated, and the bottle should be kept away from sources of heat.
If a bottle is outside the home (on a patio or terrace) but serves an interior installation then there should be an easily accessible shut-off valve inside and the bottle and its rubber tubing, protected from the elements.
No more than two bottles should be connected inside the home. ( There has been comment on forums that insurance policies will be invalidated if more than two bottles are stored inside the home but this has proven impossible to substantiate. However, for security purposes it is not advisable to connect more than two bottles.)
There have been claims on forums that the maximum number of bottles permitted in one home is two, however, although most gas companies will only supply a maximum of two bottles on contract, there does not appear to be any specific legislation which limits the number of bottles which can be owned by one person. Common sense should be exercised, as people ( including emergency services) are killed every year in gas explosions, through leakage via aged or faulty gas appliances and in accidents wherein gas bottles have exploded so be aware of that when buying old appliances or second hand bottles.
In rooms or houses where the floor is below ground level (for example, in an underbuild or basement) no canisters should be installed in corridors or staircases.
Neither should canisters be stored in basements: both butane and propane are heavier than air, and can therefore accumulate in areas which are below ground level.
Canisters should be installed at least 1.50 metres from places where other solid and liquid fuels are stored, 50 centimetres from mains electricity sockets and 30 centimetres from heating elements and electricity switches.
The flame produced is a reflection of how well the gas-using device is working. It should be blue and stable: if it is noisy, unstable and has yellow dots then this indicates that the device you are using needs to be checked by technicians from the gas supply company or agency.
When the canister is not being used ensure that the valve is fully set in the "off" position.

 
What to do if a leak is suspected
Close the shut-off valve immediately.
Open as many windows as possible to ventilate the premises.
Avoid using naked flames or any device which may produce a spark.
Take the gas bottle outside and contact the supply company (in the case of Repsol the contact number for incidents of this kind is 901 121212).
The flexible connecting tube is subject to deterioration, and the date by which it should be replaced is printed on it ( by law, these fittings should be changed every 4-5 years-see below)
Never place the canister in a horizontal position.
Large 35-kilo canisters should always be placed outside buildings and housed within protective casing.

 
Servicing gas installations
All devices using gas, both mains and bottled, should be reviewed by authorized technicians every four or five years (depending on the regulations of each Autonomous Community within Spain). Those who have contracts normally receive a reminder from the gas supply company or agency reminding them when the next review is due.( again, see gas scams as this is the area in whuch gas scammers frequently work)


The price of butane gas canisters
The official government price is the MAXIMUM sales price, and inevitably all distributors will use that price.
However, some points of sale apply a spurious handling charge of anywhere between 20 cents and 1 euro. This practice is somewhere between cheeky and illegal, and those who resent paying the extra amount are advised to look elsewhere for another point of sale. For those living in the campo it is often cheaper just to pay the handling charge than drive around looking for a cheaper point of sale. Garages can be more expensive than local retailers handling gas sales.


Different suppliers
The products supplied by Repsol, Cepsa and Galp Energia are essentially exactly the same, and in theory are always sold at the same price. However, bear in mind that when replacing an empty canister with a full one you exchange a canister belonging to one company for another belonging to a different company: if the old canister is the typical orange Repsol one, the new one will also have to be the same design and make, so therefore, garages will often decline to change a cannister that does not belong to them. For this reason it is advisable to choose point of purchase carefully when travelling in a camper van, for example, and not burden yourself with a branded gas bottle.

Transporting gas bottles in private vehicles
Only ONE bottle can be transported at a time by a private individual, as Spanish law only permits the transportation of 15 kilos of liquid gas in a private vehicle. ( most gas bottles are 12.5 and 11 kilos.)
This bottle must be transported in an upright position, belted into the passenger position within the vehicle, (copiloto) and NOT in the backseat or the boot of the vehicle where it can roll around.
Repsol say that the law regarding transportation of gas bottles is clearly displayed on the cages in which they are held and at the points of distributor sale.
It is illegal to transport any loose items on the backseat of a vehicle, as they can roll around, fly off the backseat and cause injury to a driver in the case of an accident. Any loose goods such as shopping being transported in a vehicle should always be secured in the boot.
 
article_detail
article_detail
Contact Murcia Today: Editorial 966 260 896 / Office 968 018 268