San Javier beaches: Playa de la Hita
A wild natural beach in front of Camping Mar Menor
The Camping Mar Menor campiste is located close to the San Javier airport and next to the Islas del Mar Menor natural conservation area, which is listed as a Specially Protected Area of Mediterranean Importance (SPAMI) and is on the boundary between Los Alcázares and Santiago de La Ribera, in the municipality of San Javier. This unique ecosystem exists due to the special conditions and temperatures of the waters that form the Mar Menor and is a stopover point for many migratory birds. If you're lucky you may see stilt, rail, warblers or heron in amongst the reeds.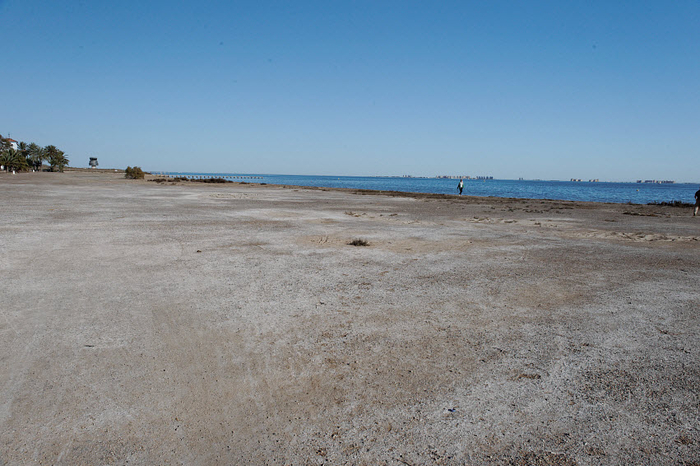 To facilitate access to the shore of the Mar Menor there are raised walkways through the reedbeds, accessed via the campsite and the road leading to it. The Playa de la Hita is almost exclusively used by clients from the campsite and is very much a natural beach with no artificially introduced sand, giving it a a fairly coarse sand and pebble surface.
Click for more information about Santiago de la Ribera.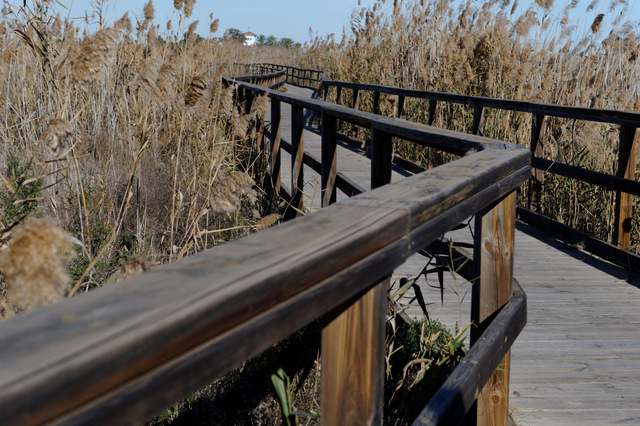 Safety precautions for bathers
This is a Mar Menor beach and it is advisable to observe the following safety precautions when bathing:
- most of the Mar Menor beaches have very gently sloping shelves, meaning that bathers can walk a considerable distance from the shore and still only be waist high in the water. These shore fringes are also very warm, heating up more than the deeper waters, or the Mediterranean coastline, particularly during the hot summer months.
- many beaches are also protected by netting to exclude jellyfish. This creates safe bathing areas for families but also leads to a situation which can be life threatening, as the safety of the beaches results in many elderly bathers bathing alone. This in itself is not life threatening, but every year there are unnecessary deaths when bathers suffer a heart attack, stroke, faint or have a dizzy spell of some sort whilst bathing alone, slipping into the water without anybody else being aware that this has happened.
The transition from hot beach to cold water can shock the body, causing dizziness or fainting, so it is advisable to splash the body with water to cool down before wading out into the Mar Menor or Mediterranean.
Even though there are lifeguards at many Mar Menor beaches, accidents happen and every year there are unnecessary fatalities, the simple rule being if you have a medical condition, are taking medication, or are of advanced age, don´t bathe alone no matter how shallow and calm the water is.
And for all ages, a red flag means do not bathe, particularly on the Mediterranean beaches.
Click to see an overview of the beaches in San Javier, or to go to the home page of San Javier Today for more local news, events and other information.
Contact Murcia Today: Editorial 966 260 896 / Office 968 018 268