Salazones, the salt-cured fish specialities of the Region of Murcia
Mojama and hueva are commonly eaten in thin slices and can be found in tapas bars and supermarkets throughout Murcia
Murcia is full of gastronomic surprises and local speciality produce, one of the best-known products being the "salazones" or salted fish products which are a common feature at bars and restaurants in the Costa Cálida, and which are produced along the coast of the Mar Menor.
Essentially, "salazón" is the word used to described salt-cured fish, and although there are many varieties the species most commonly used are bluefin and longfin tuna. The techniques used to make salted products in the Iberian Peninsula are known to date back to the time when trading ships belonging to the Phoenicians travelled around the Mediterranean some six centuries before Christ: the Phoenicians used sea salt to dry out tuna in order to store and transport the fish, making it available for consumption over a longer period of time and in a greater variety of locations.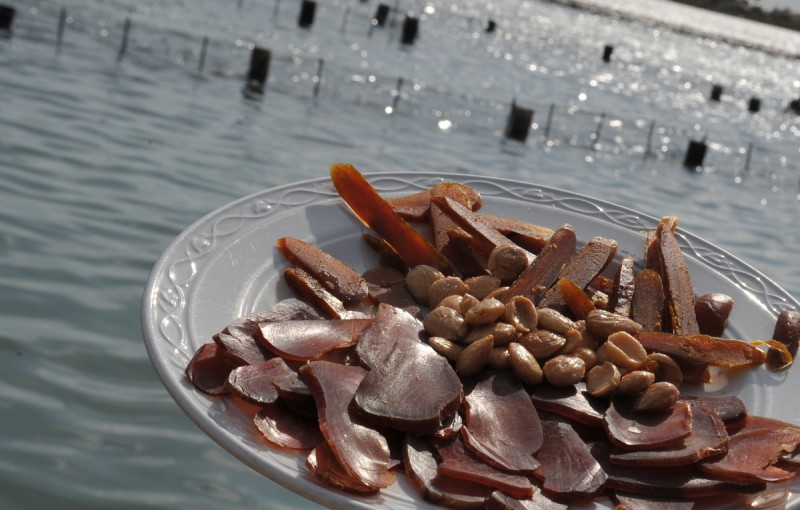 The Phoenicians left behind a number of traces of their fish-salting activities here in Murcia; shards of ceramic amphorae, used to transport the salted fish and fish sauces litter the ground in the Cabezo del Castellar in the Puerto de Mazarrón, which was also the site for the discovery of two sunken Phoenician wrecks, off the Playa de Bahía, one laden with amphorae. San Javier is also home to a considerably larger Phoenician wreck site; the Bajo de Campana, which also contained a large number of salt-fish-bearing ceramic amphorae when it sunk.
There are also many Roman sites along the Murcian coastline where a pungent salt-fish sauce known as Garum was produced and exported to feed the vast Roman Empire. In Mazarrón for example, there is a substantial Roman salt fish processing factory and a number of other sites are spread right along the coastline, from Águilas to San Pedro del Pinatar where salt was harvested for the fish salting process.
But similar techniques have developed in Murcia to create various products more suited to the modern consumer and these may provide something of a surprise to northern European palates, accustomed to different ways of preparing fish and seafood.
Mojama and hueva are probably the most popular, and are well worth a try: it's not hard to find them in small quantities in most supermarkets, and they are also available as a starter or tapa in bars and restaurants all over Murcia!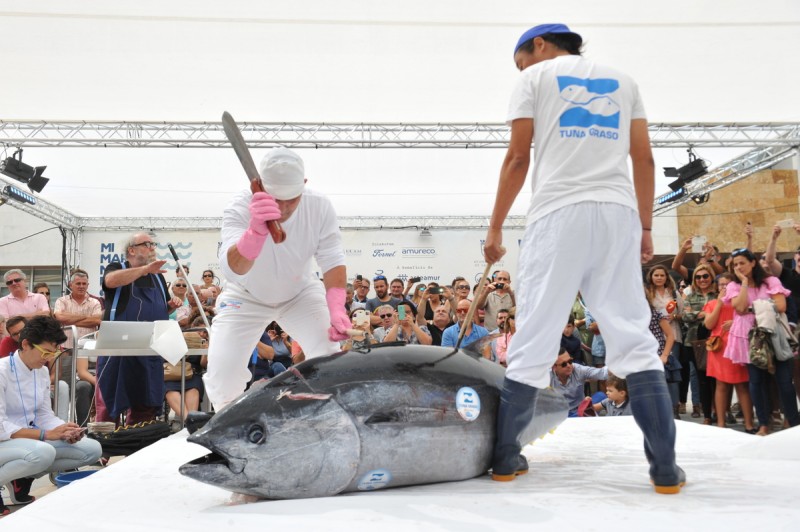 Mojama
Without any doubt mojama is the star product among the salazones of the region of Murcia, and is made from the loins of tuna which have been cured in salt, traditionally for two days. The meat is then washed and dried (traditionally in the sun) for another two or three weeks.
The loin is the principal cut taken from a full-sized tuna, and the mojama is formed from the original cut in its natural form, unlike processed products which are reconstituted from the flesh of the carcass.
In appearance mojama could easily be a meat product, indeed, looks very much like ham when seen on a plate, and is sold in shops in a similar shape to loaves of bread. It is normally served in thin slices as a starter or a snack, along with salted meat, roasted almonds and a very cold beer and is available in virtually any tapas bar.
There are many other ways in which it can be used as a cooking ingredient, and its pronounced flavour of the sea and saltiness lend themselves to combinations with other Mediterranean ingredients. Tomato is a natural partner and it's excellent served on toast or on mini tostas of bread, chopped finely and doused generously with extra virgen olive oil. Try it with spaghetti or pasta, combined with walnuts, basil, garlic and tomato, or with fresh queso fresco cheese, in a leafy salad.
Mojama is also available in supermarkets and even from stalls selling olives and nuts in the local street markets as it's such a perfect partner. It's most commonly seen as a dark sugar-brown  bar, but many supermarkets also sell it ready sliced in small packets for just a couple of euros.
Tuna is the most common, although other fish variations are available such as bonito, caught in the north of Spain and mullet. Tuna is also sold in the same format, but smoked, a wonderful woody flavour which perfectly complements the natural oils of the fish selected.
The word "mojama" is derived from the Arabic word "musamma", meaning "made into wax".
Hueva
Hueva is the Spanish word used for fish roe (or eggs), which of course can be served and prepared in many different ways. However, in the context of salazones the roe is not only salted but also dried and compressed into a wax-like substance which is formed into bars.
The eggs used are most usually those of tuna, flathead mullet and ling, and the result is a dry, salty product with a pronounced fish taste. Other fish species are also used at different production centres, including hake, and again this is a speciality which dates back many centuries in the Region of Murcia.
Anyone who enjoys fish egg products will find this an interesting alternative, which offers plenty of possibilities for incorporating into salads or fish dishes, as well as enjoying as an aperitif with wine or beer.
Again, it's sold in small "bars" or sliced into smaller packets in supermarkets, and again, is available in small packets between 2 and 3 euros, as well as in tapas bars across the region.
Bonito
Bonito is a salted fish product most usually derived from the meat of the fish of the same name (Sarda sarda), caught in the north of Spain during seasonal fish drives, and the most common method of preparation is to open up the fish butterfly-fashion, clean it and salt and dry it in basin.
However, bonito loins are another popular salted product, and in bars and restaurants it can sometimes be found in thin slices.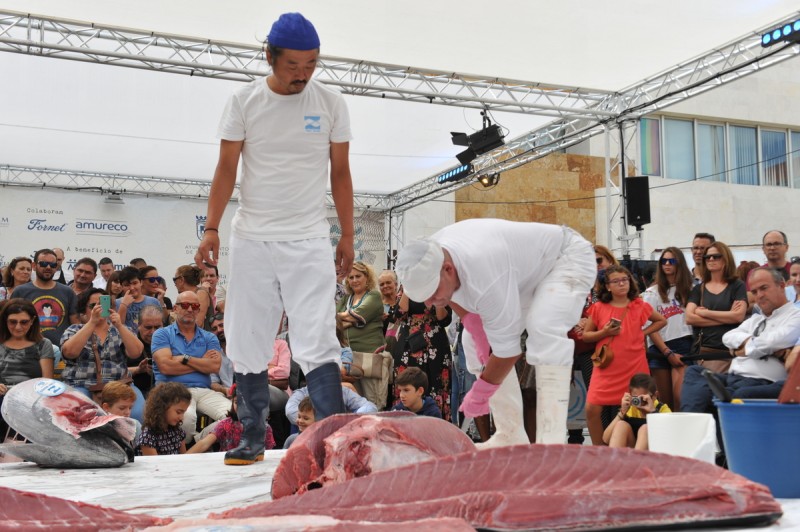 Other products
Salazón producers also tend to branch out, and additionally specialize in a variety of smoked fish products. These again can be bought as large pieces or pre-sliced to add a little tang to the aperitivo table, and are also commonly found in bars and restaurants all over Murcia.
In most cases the fish is caught outside of Murcian waters, although tuna, for example, are caught out at sea and then brought into Murcian fisheries to be fattened in commercial fisheries.
The processing into salazones, however, is carried out in the Murcia Region.
These fish products are gaining increasing international exposure and as a result Murcia has gained substantial trading agreements with countries such as Japan, where products from the Murcia Region are widely consumed. Surprisingly, there is less penetration into the Spanish domestic market than could be expected, although the introduction of fish species more widely consumed in the north, such as bonito, is helping to increase market awareness of this Murcian speciality.
Give them a try; they're the true taste of the Mediterranean coastline!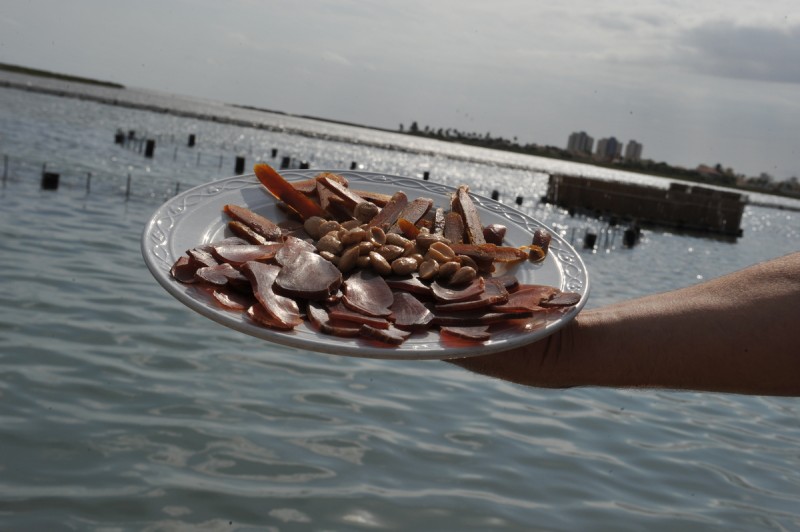 article_detail
article_detail
Contact Murcia Today: Editorial 966 260 896 / Office 968 018 268