Date Published: 07/02/2020
Ratoncito Peréz, the Spanish tooth fairy

The rodent happily removes teeth from under pillows all over Spain for a small fee
One of the landmark moments in the development of a young child is the day they lose the first of their baby teeth, an event which in the UK is traditionally associated with a visit from the Tooth Fairy and the appearance of a sixpence (or a 5-pound note these days) under the youngster's pillow the following morning, replacing the tooth which has been left there for the fairy to collect.
Spanish children, though, are not brought up to believe any such nonsense about fairies, because they know from a very early age that the job of collecting teeth which have outlived their purpose is carried out by the Ratón (or Ratoncito) Pérez (Little Mouse Pérez). It is hard to argue with this theory – after all, the Spanish are not alone, with small mice or other rodents performing the same role in France (la petite souris) and Italy (Topolino, Topino or Fatina). If so many children in different countries independently reach the same conclusion, there must be something in it!
It is thought that the origins of Ratoncito Pérez lie in a tale written in the 18th century by the French Baroness d'Aulnoy, entitled "La Bonne Petite Souris" (The Good Little She-Mouse). The Baroness tells the story of a fairy who turns into a mouse in order to defeat an evil King by hiding under his pillow and causing all of his teeth to fall out.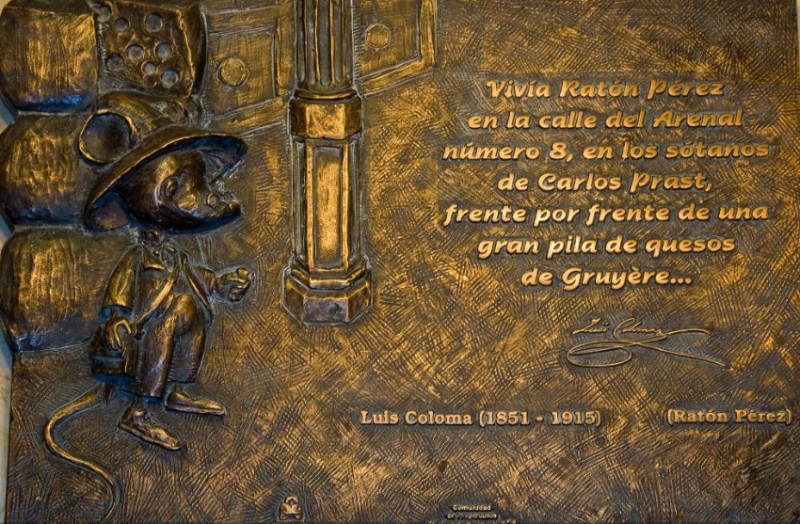 Some say that the story was brought to Spain by the writer Luis Coloma, who in 1894 was asked to write a tale for the future King Alfonso XIII, who was 8 years old at the time and had just lost a tooth. But there are references to the Ratoncito Pérez in an earlier work published in 1884, suggesting that Coloma was merely referring to a truth which was already well-established among the tooth-losing children of this country.
Nonetheless, the Coloma version of the origins is the one which has gained most credit, and a commemorative plaque has been placed on the building at Number 5, Calle Arenal in Madrid, reading "Here, inside a biscuit box in the Prast confectionary shop, lived Ratón Pérez, according to the story written by Father Coloma for the young King Alfonso XIII". Another plaque explains that the mouse resided opposite a large pile of gruyère cheeses.
A nearby museum is devoted to the magical rodent, and his fame has grown to the extent that he has been the subject of feature films, theatre productions and stage musicals.
Unfortunately, he is notoriously shy of publicity and declined to be photographed for the purposes of this article.
Image 1: Casita Museo de Ratón Pérez (Facebook)
article_detail
article_detail
Contact Murcia Today: Editorial 966 260 896 / Office 968 018 268