Playa Ensenada del Esparto, La Manga del Mar Menor beaches San Javier
A vast 2.6 kilometre long, low density beach between kilometres 16.3 and 13.9 of La Manga del Mar Menor
Playa Ensenada del Esparto
This is a vast semi-urban  beach which runs down a fairly low density area of La Manga del Mar Menor at the far end of "La Manga Strip" as it is frequently referred to by holidaymakers and services the urbanisations between kilometres 16.3 and 13.9.
It's so huge that density can be nothing other than low as this beach is a whopping 2.6 kilometres long and an average of 20 metres wide, with lovely fine natural Mediterranean greyish sand.
This beach is a real Mediterranean joy, with long shores and rolling waves, and in recognition of the low density, has been awarded a blue flag as an environmentally friendly beach.
There is plenty of parking and loads of space. Services and facilities include telephones, bins, beach grooming service, wooden walkways, beach chiringuitos, footwashes, disabled access, scuba diving and lifeguards.
Access: There is a bus service which runs right along the length of The Strip throughout the day with several stops near to the urbanisation and plenty of parking for cars in the urban area.
Basic information about San Javier municipality beaches
San Javier has 2 totally distinct sections of beaches, one part being in Santiago de la Ribera, close to the main centre of San Javier town, all of which are Mar Menor beaches, and the other across the opposite side of the Mar Menor on the La Manga strip, at La Manga, which are a mixture of Mar Menor and Mediterranean beaches.
Mar Menor beaches are enclosed within the protective circle of what is, essentially, Europe's largest saltwater lake, although it's often difficult to think of this as a lake as it is fed by the Mediterranean, and is on the Mediterranean coastline.
The Mar Menor is totally unique, its geographical peculiarities creating some of the best conditions in Spain for those learning watersports, particularly windsurfing and sailing.
Murcia is the warmest mainland region in Spain, and has an average temperature of 18 degrees, which makes it perfect for year-round watersports activity and bathers can enjoy the waters of the Mar Menor for most of the year. The water in the Mar Menor is not tidal and has no currents or waves, so is perfect for family bathing or watersport beginners.
It has shallow fringes, which slope gently, and is only 7 metres deep in the centre, so the water temperature is warmer than that of the Mediterranean, particularly around the edges where it is possible to wade out 50 metres from the shore and still only be waist deep.
All of the beaches listed as Mar Menor beaches are inside the circle of the Mar Menor, which covers a surface area of nearly 170 square kilometres, with 70 kilometres of internal coastline, separated from the Mediterranean by a 22km long strip of land (the La Manga Strip as it's often referred to by foreign visitors, or La Manga del Mar Menor), which is connected to the Mediterranean via a canal channel, so sailing boats can sail between the Mar Menor and Mediterranean and the water retain its salinity.
The internal area of the Mar Menor is divided between several municipalities, or local councils. The La Manga strip is divided into two sections for administrative purposes, although there is no geographical difference, the far end belonging to San Javier and the lower section linking to Cabo de Palos belongs to Cartagena.
The La Manga Strip offers beaches on both the Mar Menor side and the Mediterranean coast, both presenting totally different bathing conditions and types of beaches.
It is important when selecting a beach to understand that the Mar Menor beaches offer shallow and calm bathing conditions, whereas the Mediterranean beaches are wider, longer, windier, and are susceptible to wave conditions and currents.
Beach location is generally defined by "km", as the various points along La Manga del Mar Menor are listed as being "at km....". Basically KM 0 is the tourist information point at Cabo de Palos and km 18 is the far end of La Manga by the Esculls de la Llana y Encañizadas which is where dry land runs out! The remainder of "the strip" is marsh, and inaccessible, before it finally meets the salinas of the San Pedro del Pinatar municipality.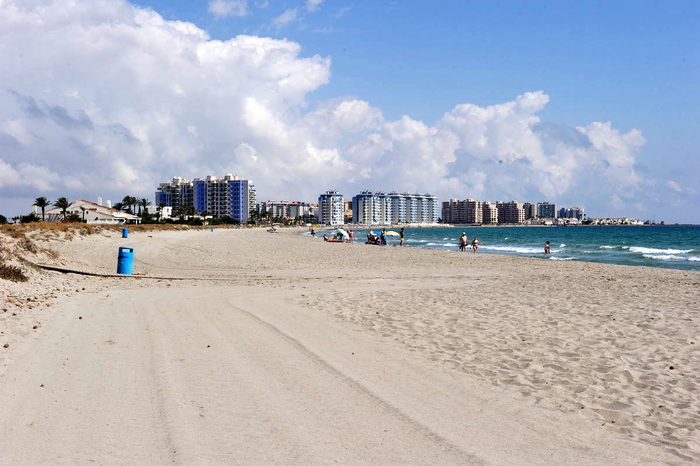 Safety precautions for bathers
When using Mar Menor beaches, it´s advisable to observe the following safety precautions when bathing:
Most of the Mar Menor beaches have very gently sloping shelves, meaning that bathers can walk a  considerable distance from the shore and still only be waist high in the water. These shore fringes are also very warm, heating up more than the deeper waters, or the Mediterranean coastline, particularly during the hot summer months.
Many beaches are also protected by netting to exclude jellyfish.
This creates safe bathing areas for families but also leads to a situation which can be life threatening, as the safety of the beaches results in many elderly bathers bathing alone.This in itself is not life threatening, but every year there are unnecessary deaths when bathers suffer a heart attack, stroke, faint or have a dizzy spell of some sort whilst bathing alone, slipping into the water without anybody else being aware that this has happened.
The transition from hot beach to cold water can shock the body, causing dizziness or fainting, so it is advisable to splash the body with water to cool down before wading out into the Mar Menor or Mediterranean.
Even though there are lifeguards, accidents happen and every year there are unnecessary fatalities, the simple rule being if you have a medical condition, are taking medication, or are of advanced age, don´t bathe alone, no matter how shallow and calm the water is.
And for all ages, a red flag means do not bathe, particularly on the Mediterranean beaches.
Click for introduction to the San Javier beaches
Click for more information about the San Javier municipality
article_detail
Other La Manga del Mar Menor Beaches
Contact Murcia Today: Editorial 966 260 896 / Office 968 018 268