Playa del Atalayón, San Javier beaches

No beach, but a nice bathing and leisure area in Santiago de la Ribera
Although this section of the San Javier coastline is named Playa del Atalayón, there´s actually nothing here in the way of a beach, but nonetheless this is a very important element of the San Javier leisure offering.
This section of coastline is filled with sailing clubs, bathing jetties and and embarcation points, the water rising higher against the seafront than at other sections of this coastline.
A long walkway links the beaches of San Pedro del Pinatar and Lo Pagán to those of San Javier and Santiago de la Ribera in the area where the two built-up districts merge into one another. They are joined by the main coast road and this pedestrian promenade, with shaded areas, children's play areas and seating.
This all links to an area occupied by the armed forces' social club and other leisure facilities, which offer private tennis and sailing opportunities as well as a range of other social activities.
As the road approaches Santiago de la Ribera, those driving along the coast are diverted into the residential back streets of the area, which, whilst pleasant, can be a fraught experience for those with little local knowledge, and can make finding a parking space somewhat of an adventure.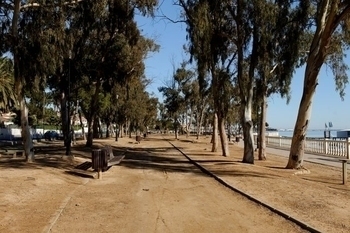 The residential nature of the results in beaches along this stretch of coastline being quite high occupancy in the summer, and guarantees that the Explanada and walkway are busy and bustling during peak months.
There are also a number of bathing stations on this stretch of the coastl, historical wooden structures, some privately owned and others for public use, which were originally designed to enable bathers to enter the water with a degree of modesty and at a reasonable depth, away from the stone base of this section of the water.
Many of these are still available for public use today, and during the summer they are festooned with tent-like structures offering shade and comfort.
There is parking in the residential streets behind the seafront.
Click to see an overview of the beaches in San Javier, or to go to the home page of San Javier Today for more local news, events and other information.
Contact Murcia Today: Editorial 966 260 896 / Office 968 018 268