Mazarrón Roman milestone
Milario romano Mazarrón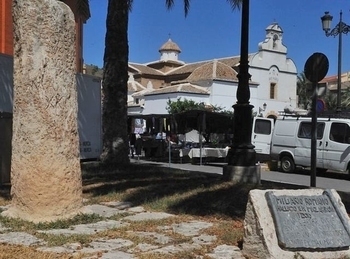 The Milario is a Roman milestone, or road marker
This Roman milestone was found in the 1970s near the church and convent of La Purísima in Mazarrón and showed the distance in miles from the Via Augusta. This in turn was a major communications and trade route created by the Romans, running from Cádiz to the Pyrenees and staying close to the Mediterranean coastline between Cartagena and the Pyrenees.
The Vía Augusta is often called the Vía Hercules or Vía Exterior, and is known to have passed through the major Roman city of Novo Carthago (Cartagena). Mazarrón was one of the ports of call along the route, which was built in parts over an old Iberian road.
The milestone is now housed in the Roman fish salting museum in Puerto de Mazarrón.
It bears the inscription
IMP.CAESAR DIVI
F.AVGVSTVS COS XI
TRIBVNIC.POTEST.XVI
IMP.XIIII.PONTIFEX
MAXIMVS.A LVCENTO
ELIOCROCAM.XXVIII M.P.
REST.
This translates as: "The Emperor Caesar Augustus, son of the gods, eleven times consul, sixteen times tribunicia potestas, fourteen times emperor, maximum pontiff, restores twenty eight thousand steps of the road of Lucentum to Eliocroca."
Mazarrón was a Roman settlement and had an important fish salting industry, manufacturing both salted fish and also sauces, the most prized of which was Garum. The museum where the milestone is now housed contains a superb example of such a factory, as well as many other Roman remains.
For more local information visit the home page of Mazarrón Today.
Sights to see in Mazarrón
article_detail
Contact Murcia Today: Editorial 966 260 896 / Office 968 018 268