Lumbres de san Antón (Fires of Saint Anthony) Cieza
San Antón is celebrated throughout Spain on the 17th January
It is a tradition throughout Spain to celebrate the day of San Antón with bonfires and other festivities.   "La lumbre de San Antón, que salga la vieja del rincón"(The fire of San Antón, let the old lady come out from her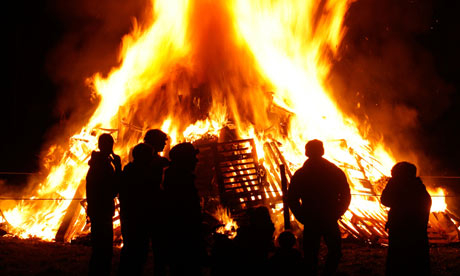 corner) is a line from an old popular Spanish song that is still sung around the bonfires which are lit in different districts and corners of the Cieza locality to celebrate the day of San Anton on 17th January.  
This is one of the oldest and most charismatic fiestas in Cieza where the streets and squares shine with the natural light provided by the flames whilst firecrackers and other fireworks fill the air with noise.
Families, neighbours and friends congregate around the bonfires and hold hands around the fires singing popular songs.   Old furniture and unusable objects are placed on the fires and symbolize renovation as fire purifies.
San Anton was often referred to as the first Monk, as he shut himself away in the desert to pray and meditate, at one point being walled up inside his cell for 6 months, so he could pray and reflect in peace. A quantity of bread was made to sustain him during this time, which is where the tradition of making the little rollos de San Anton comes from.
These little rolls come in many forms and are said to bring luck all year, and money, to those who keep them in their purse, and the money raised from their sale goes towards church funds. You´ll find them at some of the church services and events, on offer in return for a donation and on sale in bakeries.
There are also prize draws, or rifas, which include an animal, often a piglet, which refer back to the tempations experienced by the saint during the time he was shut away. He is said to have yearned for animal flesh, so of course, this being Murcia, the residents are only too happy to oblige by eating some on his behalf. There are usually  barbeques to accompany the bonfires and the night of San Antón, an enjoyable occasion for friends and families.

article_detail
Contact Murcia Today: Editorial 966 260 896 / Office 968 018 268