June 15 Bob Dylan live in concert at the Alicante Bullring
ARCHIVED ARTICLE
-
See Bob Dylan perform live in Spain this June on his 'Rough and Rowdy Ways' Tour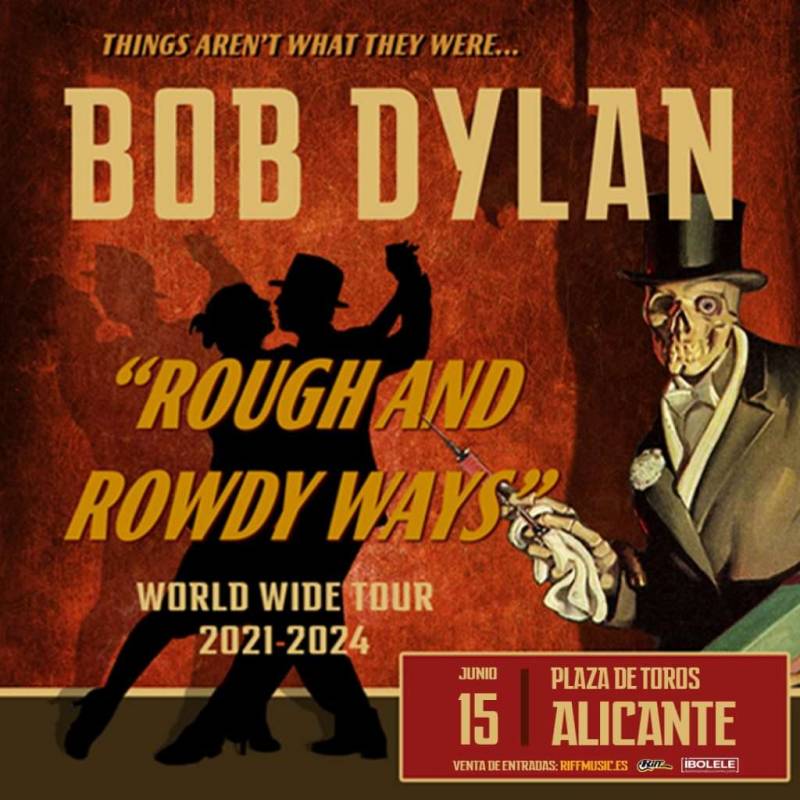 Legendary folk singer
Bob Dylan will be performing live in Spain in June 2023 on his Rough and Rowdy Ways Tour
, a world tour that began on November 2, 2021 in Milwaukee (Wisconsin) and will last until 2024.
In Spain, Bob will be playing at the
Alicante
Bullring on Thursday June 15, 2023 at 9.30pm, in a concert organised by Alicante GOLDEST Legends Concerts.
The concert will mainly focus of songs from Dylan's thirty-ninth studio album 'Rough and Rowdy Ways'.
REDUCED MOBILITY: Tickets for people with reduced mobility can only be purchased by telephone on +34 918 36 15 63.
TICKET LIMIT: Only a maximum of 6 tickets may be purchased per transaction. No changes or refunds are permitted once tickets have been purchased. Tickets for this concert may not be resold.
IMPORTANT INFORMATION
This concert is a "PHONE FREE SHOW", meaning that phones are not allowed in the hall during the concert.
This phone-free experience creates better moments for everyone in attendance, helping to open our eyes a little wider and sharpen our senses slightly as we lose the technological crutch we've become accustomed to.
How does it work?
Once you arrive at the venue, Yondr (the phone case company contracted for this concert) will provide you with their specialised staff to help you store your phone in a closed and secure case, which you will carry with you throughout the evening.
It's a non-negotiable deal, although medical exemptions are made for those who rely on their phone for treatment.
What should I do if I have an emergency and need access to my phone?
You can unlock your phone pocket at any time by going to a specific, marked area designated for phone use. Don't hesitate to ask a Yondr staff member for help.
article_detail

Alicante GOLDEST Legends Concerts is an initiative of Eventos Mare Nostrum, the company that manages the Alicante Bullring and Ibolele Producciones.
Throughout the year, they offer a selection of exclusive concerts in the Alicante Bullring – the Plaza de Toros de Alicante – transforming this venue into the site of unforgettable, once-in-a-lifetime moments.
Over the years, Alicante GOLDEST Legends Concerts have collaborated with artists as diverse and well-known as Bob Dylan, Tom Jones, Rod Stewart, Sting, Shakira, Nathy Peluso, Garbage, REM, Supertramp and many others…
The Alicante Bullring works in conjunction with Alicante GOLDEST Legends Concerts to bring these unique concerts to fruition, having hosted over the decades some of the most incredible concerts ever held in the city of Alicante.
At the same time, Ibolele Producciones stands as one of the most important musical production companies for shows in Spain. Ibolele have more than 25 years of experience in the organisation, production and integral management of concerts, festivals and music cycles.
Contact Murcia Today: Editorial 966 260 896 / Office 968 018 268