Date Published: 25/02/2020
How to make a Will in Spain
If you have assets in Spain it is essential to make a Will
In our own household the impending departure of the UK from the EU has prompted a full revision of all documentation relating to our own residence in Spain, and a general process to "tidy up" paperwork.
As part of this, we have finally taken the time to make a Will, and found it to be a simple, but vital process for any British national who owns property in Spain.
In order to save complications for your relatives in the future IT IS IMPERATIVE THAT YOU MAKE A LEGALLY VALID WILL IN SPAIN.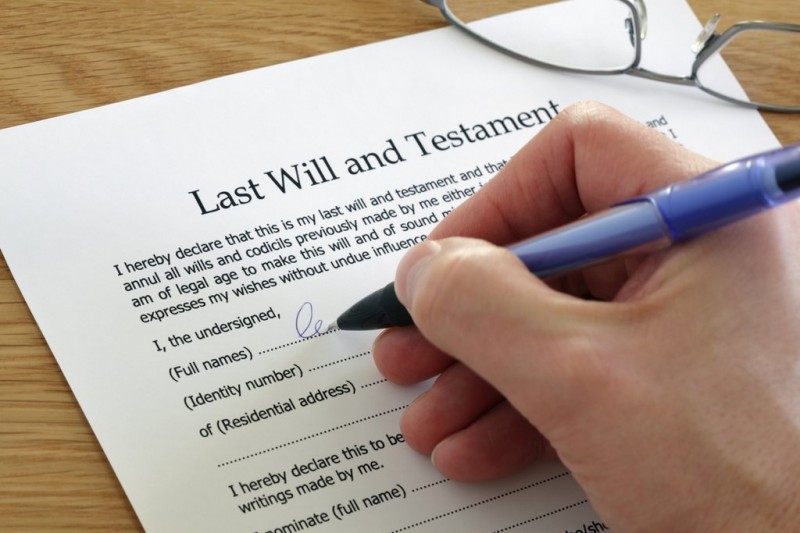 Of course few of us like to think about a future in which we play no active part, but on the other hand most people would be keen to avoid the possibility of our loved ones cursing us for our lack of foresight after we are gone and having failed to make provision for the distribution of our assets. For this reason a Will - a legal document that sets out how your property is to be divided after your death – is an absolute must if you have assets in Spain, and although the paperwork required is a little more complicated than in the UK it is by no means overwhelming and the cost is negligible in comparison with the trouble saved for those who will eventually be mourning our passing.
To make a Will in Spain it is essential to ensure that your specific wishes are in writing and signed before a public notary. In the UK it is enough to write it out yourself and sign it, and in Spain this is theoretically the case as well, but in practice this is fraught with risks and no-one attempts to do so. Instead, the course of action is to consult with a lawyer and solicitor who will "translate" your wishes into "legal-ese" before they are presented in front of a notary, thus eliminating the risk of the notary rejecting it as being insufficient or ambiguous.
It should also be noted that your Will is one of the few documents for the signature of which you cannot grant power of attorney: you MUST sign it yourself, in person and in the presence of a notary who is fully satisfied that you understand all of its contents and their implications. For those who are not fluent in Spanish this makes it indispensable that you are accompanied by a qualified and reliable translator.
IF YOU DO NOT MAKE A WILL IN SPAIN YOUR SPANISH ASSETS WILL BE DISTRIBUTED IN ACCORDANCE WITH THE SPANISH CIVIL CODE. This makes the process more drawn-out than it is when a valid Will is in place and can result in beneficiaries – including the taxman – receiving more than you would prefer.
It is particularly important to bear this in mind in relation to property owned in Spain. In theory, in this country when a foreign property owner dies with no Will, Spanish law must be applied to their Spanish assets as a result and the testator must leave two thirds of their estate to their compulsory heirs.
However, if the property owner makes a Will, they may leave their Spanish assets to anyone (or any charity or body) they please provided that the laws of their home country allow this. The Spanish Civil Code states that the assets owned by the foreign deceased at the time of death will be governed not by Spanish law but by their own national law.
Making a will is really very easy in Spain once you have decided how you wish your assets to be divided, and the cost is far from prohibitive: in general it works out at around 150 euros, including not only the fee of the lawyer you consult with but also the notary fees.
The normal practice is for a lawyer to ask the client to confirm their identity by providing a passport/NIE document and address, then detail how they wish to distribute their estate. If an executor is required, this should also be specified.
From this information the lawyer will prepare the will, which should then be checked.
Once the contents are satisfactory, an appointment will be made to sign the document in the presence of a notary.
In order to do this, take along a passport and NIE.
If you do not speak Spanish it is essential to ensure that a translator is present to read through the will in the presence of the notary who is obliged to ensure that the client fully understands what they are signing.
A simple signature concludes the procedure.
It is also important to consider the whole subject of funeral arrangements (ie funeral plans/ funeral insurance. Click for Funeral plans and insurance ) and ensuring that documentation is in order for relatives/executors, for which reason it is advisable to ensure documents pertaining to the property in question are organised and stored in a location in which they can easily be located.
Click for Lawyers in the Murcia Today Business Directory
Click for Legal and Financial information
Follow Murcia Today on Facebook to keep up to date with all the latest news, events and information in the Murcia region: https://www.facebook.com/MurciaToday/
Our thanks to Imont legal firm in San Javier and la Zenia for their assistance in preparing this article. 
article_detail
article_detail
Contact Murcia Today: Editorial 966 260 896 / Office 968 018 268