Holiday home rentals in the Condado de Alhama golf resort, Alhama de Murcia
Numerous properties and agencies listed on the Alhama Town Hall website
The following are listed as contacts for holiday home rentals in Condado de Alhama on the Alhama de Murcia Town Hall website:
Villa Paramount Golf Resort, Naranjos 3, Apt. 194
The apartment sleeps 6.
T: 639 320416 / 687 500036
Email: villaparamountgolfresort@gmail.com
Military Breaks Plus, Naranjos 3, Apt. 242
82 apartments.
T: 658 062761
Web: www.militarybreaksplus.com
Email: militarybreaksplus@gmail.com
Sparkle Property Services, office in Centro Comercial Al-Kasar
45 apartments
T: 868 082687 / 664 438468
Web: www.sparklepropertyservices.com
Email: office@sparklecleancondado.com
M&N Condado Property Management, Los Naranjos, Jardín 8
9 apartments
T: 634 168285
Mifflin Arlen Corby, Jardín 5
2 apartments
T: 966 449170
Condado Property Rental & Management, office in Centro Comercial Al-Kasar
38 apartments
T: 642 184854
Email: condadopropertymanagement@hotmail.com
Kerry Hadden, Jardines de Alhama 7, J652
1 apartment sleeps 4.
T: + 44 7720 2326
Email: kezl536@gmail.com
Kirisen, Paseo de la Isla, Bloque 060G
1 apartment sleeps 6.
T: 938 841195 / 616 237606
Kirstin Dryfout, Bulevar Los Naranjos, Bloq. 4, nº 38, Penthouse 1432
1 apartment sleeps 4.
T: 968 595825
182 Bulevar Naranjos, Bulevar de los Naranjos, 3
1 apartment sleeps 4.
T: 968 032424
Email: jahernandez@lssolicitors.es
Angelo J. Cornelis Van der Lee, Paseo de la Isla, nº10 – Blq. 7 – 3ºG
1 apartment sleeps 4.
T: 968 598826
Email: avanderlee@outlook.com
Dukstra Esther Miranda, Bulevar Naranjos, penthouse 232-40 3ªB
1 apartment sleeps 4.
T: 968 595826
For more local visiting information plus news and events go to the home page of Alhama Today.
Address
Tourist Office Alhama de Murcia, Plaza Constitucion. Frente Auditorio, nº 10, 30840, ALHAMA DE MURCIA
Tel: 968 633 512

Oficina de Turismo de Alhama de Murcia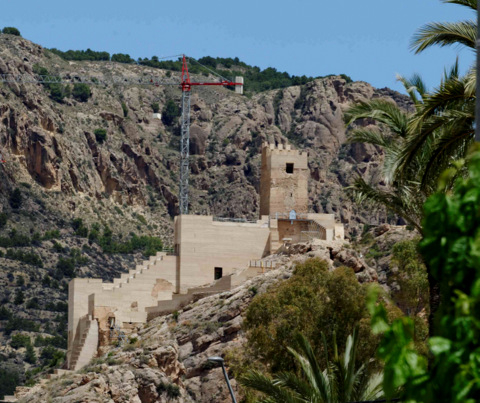 Alhama de Murcia Tourist information office is located on the edge of the Plaza de la Constitución, just a few metres away from the underground car park and the Town hall of Alhama de Murcia.
The tourist office offers free guided audiotours in English which take visitors around the historical sites of interest in Alhama. These be loaned at any time, although allow an hour and a half to complete the tour, and when loaning the audio equipment visitors are asked to leave passports or ID cards with the tourist office.
The office also carries a full range of leaflets for the archaeological museum of Los Baños, which is built around the historic spa which gives Alhama its name, and the mountains of Sierra Espuña, which is also an important area within the municipality of Alhama. Areas such as El Berro and Gebas have a number of interesting routes which can be followed and there are several picnic areas and good walking routes within the Sierra Espuña natural park.
The tourist office also carries leaflets for the many cultural events and fiestas which take place in Alhama throughout the year, including Los Mayos, Semana Santa, Christmas,the Romería of La Candelaria and the Auto de los Reyes Magos in El Berro.
Opening Hours
Winter (16th September to 30th June): Weekdays 7.00 to 14.00 and 17.00 to 20.00, Saturdays 10.00 to 13.00.
Summer (1st July to 15th September): weekdays 8.30 to 14.0, Saturdays 10.00 to 13.00.
For more local information, including news and forthcoming events, visit the home page of Alhama Today.
Contact Murcia Today: Editorial 966 260 896 / Office 968 018 268