Date Published: 05/09/2016
Guardia Civil wades into the great Spanish roundabout driving debate
Spanish drivers continue to choose the wrong lane and eschew indicators at roundabouts
Despite numerous attempts to clarify the rules regarding how to use roundabouts on the road network of Spain, surveys show that more than half of all drivers are unaware of which is the correct lane to choose,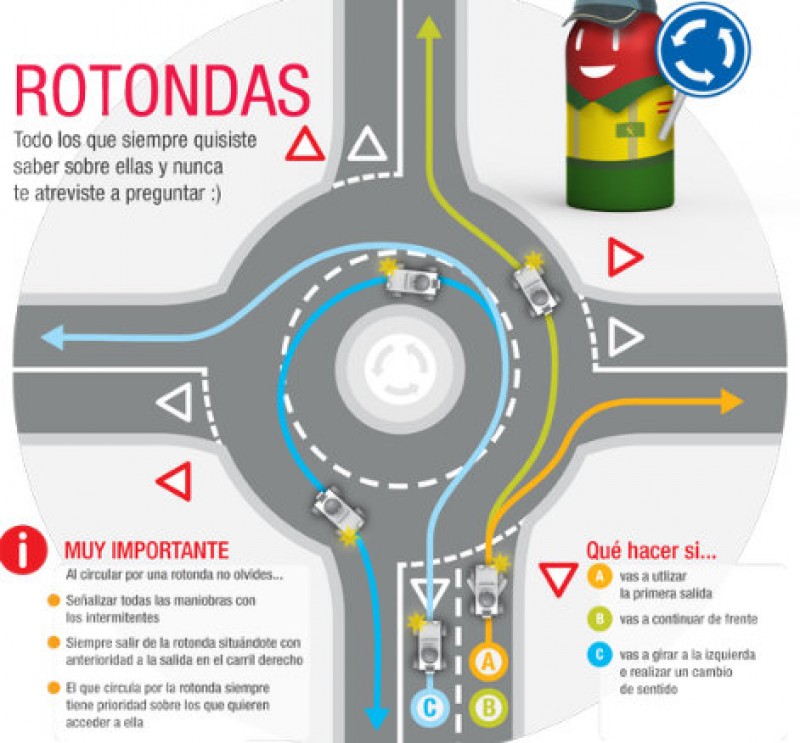 others know the rules but fail to put them into practice and the vast majority appear to view the use of indicators as completely unnecessary.
In an attempt to clarify the issue once and for all, the Guardia Civil has resorted to using its Twitter account over the last few days, although unfortunately the outcome has not been as successful as might have been hoped. The first posting (accompanied by an illustration) provoked more questions than it answered, despite the message seeming quite clear: make sure you're in the right-hand lane before taking the exit from the roundabout, rather than cutting across from the left-hand (or inside) lane.
That doesn't sound too hard, but among those who viewed it this provoked more questions than it answered, and one day later on 2nd September the Guardia followed up with another, more complete diagram. This one shows clearly that when approaching a roundabout drivers should take the left-hand lane if turning left or intending to turn through 180 degrees, and take the right-hand lane if heading right or straight on. 
That would seem to resolve any lingering doubts, and to make good sense, but unfortunately confusion still exists among many Spanish drivers. A large number appear to believe that the left-hand inside lane on roundabouts is reserved for overtaking, and therefore stick to the right-hand lane even when turning left, and this unwittingly turns them into obstacles for other drivers attempting to leave the roundabout. 
This is the case even for many who have just passed their tests (and therefore ought to have up-to-date knowledge of the Highway Code), and when it is allied to the stubborn refusal to use indicators it is a highly dangerous practice. 
Surely it would never occur to them to choose the right-hand lane when turning left, and yet they still persist in this illogical way of approaching roundabouts!
The situation in Spain is not as complicated as in France, where on some roundabouts it is still obligatory to give way to vehicles approaching from the right and on others it isn't, but even so it is important to bear in mind that Spanish drivers are unsure. 
The advice, therefore, even for those who are perfectly aware of how to proceed at roundabouts, is to be aware that many other drivers are not: in other words, never fully trust other cars on the same roundabout, as the choice of lane and the use (or non-use) of indicators may have little or nothing at all to do with the drivers' intentions!
article_detail
article_detail
Contact Murcia Today: Editorial 966 260 896 / Office 968 018 268