Date Published: 18/01/2023
Global economics 2022 summary and 2023 expectations
ARCHIVED ARTICLE
-
Article commentary by Quilter Cheviot's Karl Williamson, who is the Investment Manager of Nexus Portfolios
Global stock markets closed out 2022 with the first positive quarter of the year, as investors took solace from a moderation in the rising interest rate environment that pervaded much of the last 12 months. In US dollar terms, the MSCI All Country World Index ended Q4 around 10% higher, although the benchmark was still down annually by just under 20%. Currency movements dampened both these moves for sterling investors, with the pound gaining around 8% against the US dollar on the quarter but still depreciating roughly 11% for the year.
US (+7%) and UK (+8%) equities lagged global benchmarks a little in Q4, largely due to a strong bounce in the Far East following the significant relaxation of Chinese Covid-19 restrictions, with shares in Hong Kong (+15%) soaring. After making a new low for the year in early October the strong recovery was undoubtedly a welcome development, although the rally fizzled out somewhat due to hawkish messaging from central banks at their December meetings.
The Federal Reserve (Fed), Bank of England (BoE) and European Central Bank (ECB) all delivered 50 basis point increases to their base rates last month, slowing the pace slightly from 75 basis point rises at their previous meetings. The increases took interest rates for all three central banks to their highest levels since before the 2008 global financial crisis, with the Fed funds rate ending the year at 4.5%, BoE base rate at 3.5% and ECB main refinancing rate at 2.5%.
The Fed raised rates by 425 basis points in 2022, the largest increase in a calendar year since 1980, but they are expected to be nearing the end of this hiking cycle. Inflation has likely already peaked in most developed economies and there is some light at the end of the aggressive interest rate rise tunnel.
This notion was further supported by the US consumer price index falling to 7.1% year-on-year for November, down significantly from its peak of 9.1% in June. This metric has declined for five consecutive months as higher interest rates, a slowing economy and base effects have applied downwards pressure. While the US appears to be ahead of Europe in its fight against inflation, in part due to its lower level of exposure to rising energy prices, improving dynamics in the coming months can be expected to see inflation fall in Europe.
Seismic shift
The vast reduction in negative-yielding debt provides perhaps the best indication of the major change in the investment environment over the past 12 months. Globally sub-zero yielding debt has shrunk to less than US$700m after exceeding US$11tn at the end of 2021. Japan, the last bastion of ultra-accommodative monetary policies, finally caved in to growing market pressure last month when the Bank of Japan (BoJ) relaxed its policy of supressing long-term bond yields.
The US 10-year yield ended December pretty much flat for the quarter at 3.80%, but almost 230 basis points higher for 2022. In the UK, the 10-year gilt yield ended the year at 3.65%, up 14 basis points on the quarter and higher by just shy of 270 basis points for the year. This shows a notable relative shift in US and UK government debt, with 10-year yields spreads narrowing 40bp.
In a similar fashion to the BoJ performing a policy U-turn and adopting an approach already being used by western peers, China has abandoned its "zero-Covid" policy and abruptly scrapped many of its measures to contain the disease. This news was cheered by investors and the stock market jumped sharply higher in response. While there is little doubting that China adopting a more pragmatic approach to the pandemic is good news for the global economy, it is not a panacea and there will likely be setbacks along the way. Relatively low vaccination levels and reduced natural immunity due to stringent measures leaves China particularly vulnerable to largescale outbreaks of the virus as it opens up. Although it will ultimately be beneficial to global economic growth, we believe there will be setbacks along the way.
Overall, 2022 was a challenging year for investors, with the size of the dual decline in stocks and bonds surpassing anything seen for several generations. High inflation and resultant central bank policies triggered a significant de-rating, especially amongst highly rated shares. Growth style shares were worst hit, with declines in the region of 30%-60% commonplace.
The recovery in Q4 was a result of resilient corporate profits that, so far, have held up better than many expected in the face of tighter monetary policies. Gauges of economic activity have slowed but labour markets remain strong and overall financial markets are pricing in a growth slowdown, 'soft landing', rather than a deep recession in the first half of 2023. This poses one of the key risks going forwards – will we be far enough down the interest rate relief cycle for companies to be able to absorb substantial increases in energy and interest rate costs without a significant downturn in earnings?
We expect volatility to continue in the early part of this year, but the outlook thereafter could become more favourable as central banks conclude hiking cycles. Higher bond yields provide an alternative for some investors, and we believe that, despite a difficult 2022, diversification will provide clear benefits going forward. Equity investors may be prepared to look through current difficulties now that global valuations are near to long-term averages. While the US retains its premium, low valuations in other regions offer recovery opportunities.
120 Avenida Dr. Artero Guirao 2C. San Pedro Del Pinatar, 30740, Murcia, Spain.
Our office suite is easy to find on the main N332 through road of San Pedro del Pinatar with easy parking.
This communication is not intended to constitute, and should not be construed as, investment advice, investment recommendations or investment research. You should seek advice form a professional regulated adviser before embarking on any financial planning activity.
Blacktower Insurance Agents and Advisors Limited is authorised and regulated by the Cyprus Insurance Companies Control Service (ICCS) under Licence number 5101. Blacktower Financial Management (Cyprus) Limited is licensed and regulated by the Cyprus Securities &Exchange Commission ("CySEC") with Licence number 386/20.
Address
120 Avenida Dr. Artero Guirao 2C. San Pedro Del Pinatar, 30740, Murcia, Spain.
Tel: +34 657 684 094

Financial Advice Issues for Expats in Spain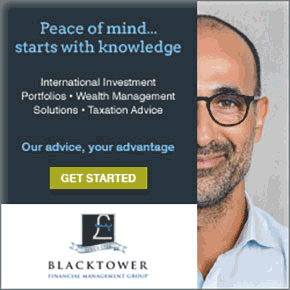 I have been a Qualified Financial Adviser for almost 35 years now. 25 years in the UK for major institutions such as Natwest, RBS and Royal London. I have been in Spain giving expats financial advice now for 10 years and it is quite remarkable the different approaches as well as advice that is required for an expat now living in Spain. Blacktower is a company that has specialised in providing the best solutions for its clients living outside the UK for 30 years also.
The currency issue is always high on the agenda and a discussion for the long term future has to be taken onto account. Questions like What will happen if one partner dies? Will the other remain in Spain? What about other family members? What Inheritance tax provisions do you have in place? The list goes on and on.

Existing portfolio's and investments that were the mainstay of portfolios in the UK may now be obsolete. An example of this is quite often tax efficient products in the UK like ISA's and previously held TESSA's PEP's actually have low growth rates and provide no tax advantage to a Spanish fiscal resident.
Existing Pension holdings either paid by the state or private pensions built up through working lifetimes are topics that have to be covered. Many expats have lots of small pensions from many ex employers and can be confused by the communications and administration in dealing with them. At Blacktower we specialise in advising on how to consolidate and bring all these pensions together in one place.

Bank accounts and investments in Spain always bring up lots of questions too. Quite often the small print associated with financial products in Spain is in Spanish this can make it very difficult even if you have a good grasp of the language. Understanding Jargon in English is sometime difficult enough. I provide clear easy to understand letters and documents in English so that you fully understand any terms and conditions before making a decision.
Advice on tax efficiency is just as important and offering good returns. There are products available exclusively for Spanish expats that can provide invaluable benefits. Having a good base knowledge of the tax implications both now and in the future is an essential ingredient to making a sound decision.

I will complete a thorough factfind, ask you the right questions, establish your individual needs, attitude to risk and capacity for loss and desired returns before providing you with a full written report of advice and my recommendations in plain English. You will then have time to read and consider all the information before contacting me with how you wish to proceed.
Click for more information about Keith Littlewood.
The above information was correct at the time of preparation and does not constitute investment advice and you should seek advice from a professional adviser before embarking on any financial planning activity.
Blacktower Financial Management (Int) Ltd is licensed in Gibraltar by the Financial Services Commission (FSC) and is registered with both the DGS and CNMV in Spain
article_detail
Contact Murcia Today: Editorial 966 260 896 / Office 968 018 268