Date Published: 22/07/2015
Frequent scams used by supermarket handbag thieves
Thieves regularly target shoppers in supermarkets
Every summer supermarkets along the coast are packed with summer holiday shoppers, providing a lucrative fishing ground for "handbag dippers" who are quick to relieve visitors of purses, cash and even the whole handbag.
Commonly reported scams and how to avoid being caught out supplied by readers:
Thieves are targeting holiday visitors. This is pretty normal  as the heat goes up, shoppers are hot, on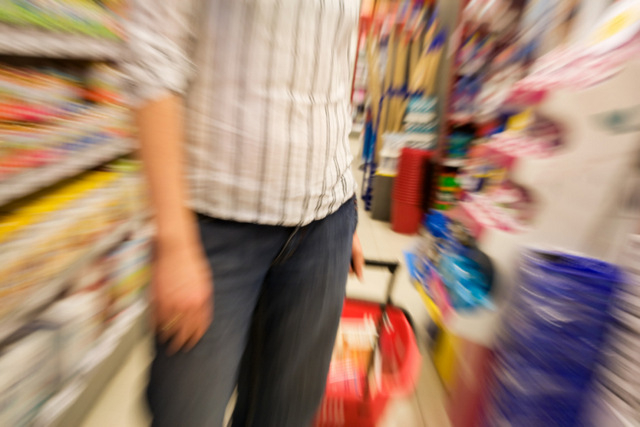 holiday, wearing open clothing and paying less attention to security, making them vulnerable to pickpockets and thieves and there are more of them, making it easier to steal within a crowd.
Bags: The advice being given is to make sure purses and phones are in a bag with a zipper, and fold over top as it's more difficult to steal from these than an open beachbag or open-topped summer bag.( Bear this in mind when buying summer holiday wear!!) Buy a bag which can be worn around your body and kept close to the body rather than dangling enticingly behind you. Bumbags are a popular choice, but readers suggest wearing them as "bellybags", worn around the front of your body, so you can see whats going on.
Backpacks are a practical way of carrying summer beachwear etc, but it is important to make sure that valuables and purses are "deep down" amongst clothing, and not placed conveniently in the external smaller pockets to make it easier for thieves to take a lucky dip while youre shopping. It has also been suggested that in a crowded place a small backpack can be worn on the front of the body or over one shoulder.
Small bags are easier to steal from than large bags as they obviously contain only essential items. However, any bag is a target and forum users report large bags being opened and purses stolen. The most important advice offered by readers is never put your bag down anywhere.
Don´t leave your handbag/plastic bag containing wallet, keys etc, in the trolley as it only takes a split second for someone to lift it. Several readers have reported leaving a trolley to weigh vegetables and when they turned around the trolley had gone, along with her handbag. These are then found in the next aisle minus the handbag.This has happened even when the bag is covered with shopping on top of it.
Never put your bag in the child seats of a shopping trolley as it can disappear in a second.
Don´t be shy boys. Real men use manbags as well. Just keep them around the front of the body, not dangling enticingly around the back.
Put sunglasses, keys, phones, loose items etc in a bag of some sort, so there's less chance of putting them down accidentally and somebody else picking them up. If you haven´t got a handbag, just go to the fruit or bread sections and take a plastic or preferably paper (more environmentally friendly) bag and put loose possessions in one of these so you don´t accidentally put something down while trying to select fruit etc.
Be careful if asked for help by fellow shoppers. Several readers report being targeted by thieves posing as shoppers, usually working in pairs. These use classic distraction techniques, which include  one shopper asking you where a particular article can be found while the other lifts your bag. Another popular trick is to drop something in front of you, so as you bend down to help, your bag disappears. Another trick reported is for someone with an armful of loose shopping to ask you to take something off a top shelf for them: while you do so, your bag disappears.Other scams involve a mother asking for help with her child, a shopper asking for help with fruit and veg weighing equipment, or a shopper asking for help to open a bag or put fruit in a bag. There are endless variations, but in every case, your bag disappears from your trolley or your trolley
disappears into a neighbouring aisle where your can be quickly removed.
The key advice here is NEVER leave your bag in the trolley and then none of these can happen.
Don´t use the lockers provided in supermarkets. Comments have been made to the effect that professional thieves operating in specific areas will have copies of all locker keys or have skeleton keys which can open lockers. Supermarkets will not take responsibility for the contents of lockers if your possessions are stolen.
Be especially vigilant at the check-puts: two of the incidents reported locally were at the checkout: shoppers loading/unloading trolleys can put down phones, keys, wallets etc and not notice in the crush that someone has lifted them during the purchase process.
Be vigilant when loading the car and make sure the first thing you do is put your handbag in the front of the car and lock the door while unloading shopping into the boot. It is so easy for experienced thieves to lift a handbag using any variety of distraction techniques.
These can include the old classic distraction tricks played on tourists such as a polite and helpful well-wishers telling you there is a problem with your vehicle and pointing out the damage while their accomplice lifts your bag, a passing shopper dropping something in front of you and while you help them your bag is lifted by their accomplice, helpful individuals offering to take your trolley back and while you are politely explaining that you don´t need their help, your bag is being stolen.
Some are less subtle and bags are snatched in broad daylight while you are momentarily distracted.
Other tips offered are put your wallet in a front pocket, not a back pocket and to be particularly vigilant in crowds, as pickpockets are never happier than in a crowded marketplace where there  is pushing and jostling taking place.
And be vigilant when unloading at home: on residential urbanisations and apartment blocks where there are a high number of tourists, thieves target lone shoppers who forget to lock the car door or the front door of their apartment while unloading shopping: it only takes a split second for a handbag to go or for someone to enter your apartment.
Other tips:
Don´t carry your world in your handbag at this time of year unless you really have to as the loss of papers, sentimental possessions, phones, all of your credit cards, health cards etc can be a real pain as well as a distressing experience. If you don´t really need to take it out, then don´t.
Don´t take a handbag to a bar/restaurant unless you really need to and be careful about where you leave it if you do: bags over the back of seats can be lifted in a second, as can bags by the side of a chair, particularly in busy promenades.
Watch out for organised groups of beggars/helpful people who want to take your trolley back. Many of the particularly Eastern European individuals begging by supermarkets are organised gangs, who drop off professional beggars on a daily basis. They make a lot of money out of tourists, so be very careful, as many of these individuals who work the supermarkets are not what they seem: don´t engage them, don´t offer any visible encouragement, be firm or keep your head down if you don't want to be hassled.And don´t feed badly if you say no when hassled for money: begging is big business in Spain and a large proportion of the money given to supermarket beggars goes to the bosses of organised begging gangs.
Be careful about transporting shopping loose in the car: not wishing to engage in another major round of comments about the word "legal" but  there have been instances of people being fined for carrying items in their car which are not in the boot. If you have to brake suddenly, a bottle can roll off a car seat and be under the brake before you know it, and loose shopping can be really dangerous. So put any shopping in the boot, not loose on the front seat of the car.
But above all, choose shopping times wisely during summer to avopid stressful shopping: 4pm to 6pm is generally the best time to hit the supermarket as the hordes are sleeping off a good lunch.
article_detail
article_detail
Contact Murcia Today: Editorial 966 260 896 / Office 968 018 268