Fishing permitted on Mazarrón beaches all year: rules and regulations
Mazarrón allows beach fishing all year on designated beaches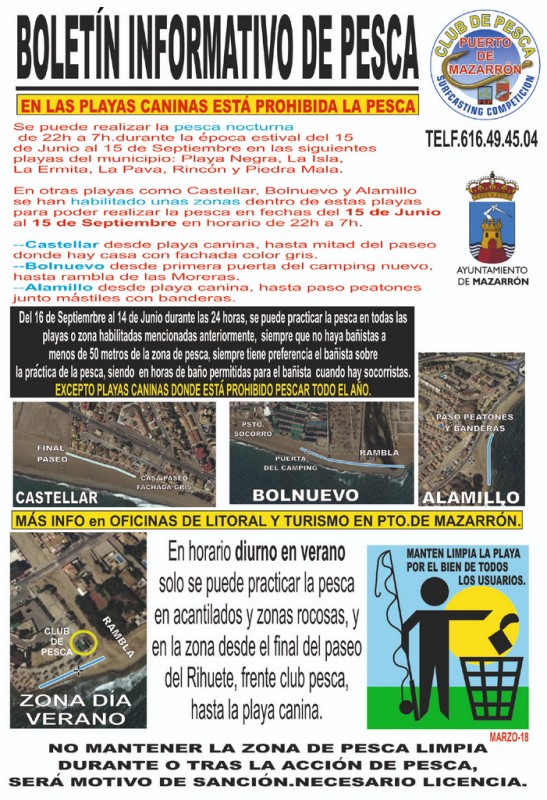 In August 2018 the Town Hall of Mazarrón issued a statement reminding local fishing enthusiasts about the local regulations governing fishing on the beaches of the municipality, and the three specific zones for angling in areas which are neither popular with bathers nor designated dog-friendly beaches.
Municipal rules state that fishing is to be banned at all times of day at beaches which have been awarded either Q for Quality status or the Blue Flag, as well as at the dog-friendly beaches of Mazarrón: in other words, at Playa del Mojón, Playa Gachero, Playa del Rihuete, Playa del Puerto, Bahía, La Reya, Playa Nares, Las Moreras, Covaticas, Percheles, El Alamillo, Playa Castellar and the main beach of Bolnuevo.
However, exceptions are to be made at specific locations on each of the last three beaches named. On the beach of El Alamillo the angling zone is between the dog-friendly beach of Gachero and the spot where the blue flag is flown, while at the Playa del Castellar it will again be alongside the dog-friendly area, next to the hotel. In Bolnuevo, meanwhile, anglers are to be allowed to set up their rods between the lifeguard post and the Rambla de las Moreras.
During June, July, August and September these three locations will be open to anglers only between 22.00 and 7.00, and only to those who have obtained a licence at a cost of just a few euros from the Town Hall (or belong to the anglers' federation), while fishing is also permitted during the same timetable at Playa Negra, Playa de La Isla, Playa de La Ermita, Playa de La Pava, Playa del Rincón and Playa de Piedra Mala.
For the rest of the year (in 2018 the open all hours period begins on the 16th September and concludes on the 14th June 2019) this last group of beaches is open to anglers 24 hours a day, always on condition that lines are not cast within 30 metres of swimmers, and on rocky stretches of the coastline and in any small coves not mentioned above the same applies.
For more local information go to the home page of Mazarrón Today, or click here for an overview of all 33 beaches in the municipality of Mazarrón.
Contact Murcia Today: Editorial 966 260 896 / Office 968 018 268