Ermita de San Blas, Santiago de la Ribera
The chapel of San Blas in the municipality of San Javier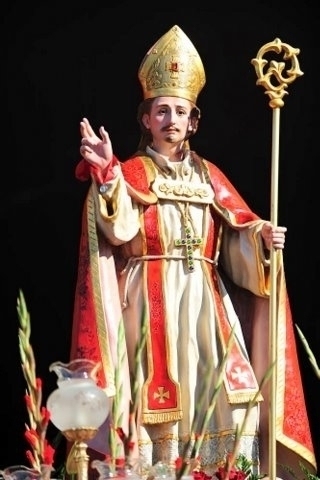 The history of this small church dates back to the Reconquista, a time of transition between the Moorish occupation and the Reconquest of southern Spain by the Catholic forces of Castile and Aragón from the north of the Iberian Peninsula.
In 1243 what is now Murcia was absorbed into the protectorate of Castile y León in a treaty known as the Capitulations of Alcaraz. The area was then ruled by Prince Alfonso, who went on to become Alfonso X, often referred to as historians as "El Sabio" (the Wise).
The Moors had been in occupation since the early 8th century, and whilst some accepted the new sovereignty others resisted, and a series of rebellions caused conflict for the next 20 years. Finally, in 1265, Jaime I of Aragón, known as "The Conqueror", who was married to the daughter of Alfonso X of Castile, came to the region at the request of his father-in-law with armed forces to put down the rebellions once and for all.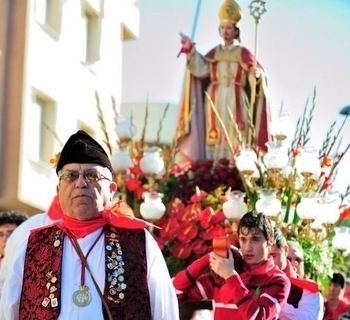 With Jaime came his knights, men from powerful families who were rewarded for their loyalty with vast tracts of land, and with the army came their priests and monks, and amongst them the Trinitarian monks.
These monks settled in Murcia and in the 16th century a number moved from the city to Santiago de la Ribera to build chapels and settlements in the area now known as Calavera in Santiago de la Ribera. This was the original true centre of what later became San Javier (click for a history of San Javier).
The location of the modern-day church is in the same area, and is believed to mark the spot of the oldest known chapel location in the Mar Menor area. Initially the "ermita" was dedicated to San Juan, but during the course of its history this changed and San Blas became the patron.
Every year on 3rd February, the figure of San Blas is taken in a Romería from the parish church of Santiago de la Ribera on the seafront to this chapel, carried by the Hermandad de Santiago y San Blas. On arrival, Mass is held and the participants disperse to enjoy the festivities of the celebration of San Blas.
Mass times in the Ermita de San Blas
Mass is held once a week at 10.30 on Sunday morning.
Location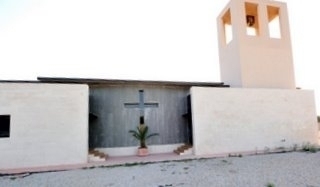 The Ermita de San Blas is in the Barrio de San Blas, within the district of La Calavera.
During the Romería, this area is filled with thousands of people enjoying open-air picnics and parties, and the peñas construct open-air "encampments" where they enjoy the fiestas.
The best road to use for a landmark is that of Calle de los Buenos Aires, Santiago de la Ribera.
Click for map, Ermita de San Blas.
Click for more information about the municipality of San Javier: SAN JAVIER TODAY
Contact Murcia Today: Editorial 966 260 896 / Office 968 018 268