El Paseo de Cieza
A central open space in which public events are held and locals relax
Contains important artworks by artist José Lucas Ruíz
The Paseo de Cieza is a central public area in Cieza, an open space in which many public events are held, a shaded walkway in which residents can sit and enjoy respite from the summer shade, as well as an interesting place in which to stop and enjoy the artworks which form part of its core structure.
The paseo was first built in 1887 in honour of D.Diego de Marín Barnuevo, and designed by municipal architect Justo Millán Espinosa.
This first paseo was enclosed by a wall of brick and iron, and decorated by iron ornaments and lamp-posts.
In 1939 following the turbulent years of Civil War in which several of the major religious centres of Cieza were badly damaged, it was dismantled, replaced by a more austere construction and re-named as the "Paseo de los Mártires, " where a monument to the fallen was erected, work of José Planes.
This took the form of a cross, and remained in situ until 1986 when it was transferred to Calle Diego Trotosa as part of plans prepared by municipal architect Juan Buitrago Ruíz in 1983 to re-model the plaza, and re-name it once again.
As part of the new look, local artist José Lucas Ruíz created 30 columns and 17 murals covering an area of 600 square metres, using ceramic tiles.
José Lucas Ruíz is an important artist, and has undertaken many major projects both in the Region of Murcia and abroad.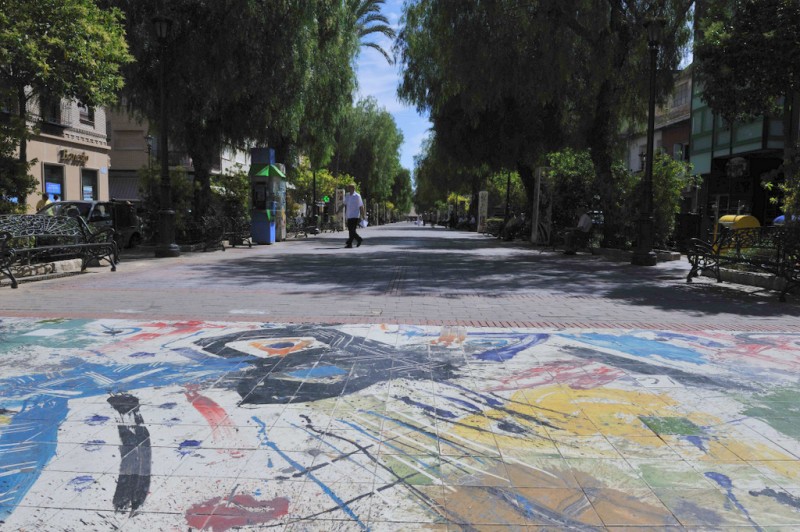 His ceramic murals can be seen in the regional parliament in Cartagena, the Asamblea regional where he produced several of the murals, in the Caja de Ahorros del Mediterráneo in Murcia, the Renfe station in Murcia, the Palacio Fontes in Murcia, headquarters of the CHS, the large arches in Los Narejos, Los Alcázares and Iglesia de Santa Clara in Cieza.
The works shown in the paseo are abstract, and pay homage to illustrious figures from different artisitic fields, including Michelangelo, Charlie Chaplin, Kafka, Tiépolo, Gongora or Titian among many others, along with snatches of verse from renowned poets.
There are plenty of hostelries in and around the Paseo de Cieza, and the Iglesia y Convento de San Joaquín y San Pascual de Cieza can also be seen on one corner, part of which has been converted into an attractive municipal library.
This corner is known as the Esquina del Convento.
Click for more information about the Cieza municipality including what's on, local news  and visitor information
article_detail
Contact Murcia Today: Editorial 966 260 896 / Office 968 018 268