Date Published: 16/07/2013
Currency Brokers Save you Money on Personal and Corporate Currency Transfers?
Using a bank isn´t the most cost effective way of transferring money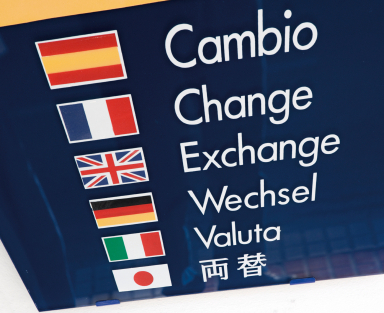 As the world becomes increasingly international, more people than ever before are opting to live and work overseas.
As different as these people may be in terms of nationality, age, occupation and hobbies, something which unites them is the need to make foreign currency transfers during their time abroad.

Expatriates often need to exchange currency for personal expenses such as property purchases, mortgage/rental payments, international school fees, or to transfer a wage or a pension.

Meanwhile, businesses with foreign connections may need to exchange currency in order to manage a payroll, cover royalties or meet import/export costs.

But the foreign exchange market is highly volatile, reacting to a huge range of economic and social factors. Poor or strong economic growth, high or low levels of unemployment, even factors like natural disasters can cause a currency's exchange rate to climb or fall.
Currencies like the Euro, for example, can fluctuate by as much as 10% in a matter of weeks. The difference of a few pence per Euro might not sound like much, but it can make a real impact on your pocket so it's important to make your transfer at the right time.

Unless you're able to monitor market movements and currency trends it can be difficult to know the best time to exchange your currency, but that's where currency brokers come in.
While many people assume that using their bank is the easiest way of making a transfer it can actually be more convenient and cost effective to use a reputable currency broker like TorFX.

Banks generally add a transfer fee on to every transaction, plus commission, and the exchange rate they secure for you is rarely the best available.

If you have regular overseas payments to manage these additional costs can really start to add up, while if you have a large, one off transfer to make you could lose a significant amount of money through not securing the best possible exchange rate.

Leading currency brokers, on the other hand, can exchange your funds at competitive exchange rates with 0% commission and absolutely no transfer fees, providing you with fast and secure international transactions on a huge range of currencies.
They can also monitor the currency market for you and offer expert guidance when it comes to protecting yourself, or your business, from negative market movements.

By providing you with a range of specialist services and contract options to choose from, and individually tailoring them to suit your needs, currency brokers eliminate all of the hassle and help you save serious sums of money.

So whether you need to make a one off transfer or have regular overseas payments to manage, using a currency broker for your transactions is easy, simple and cost effective.

For a FREE, NO COMMITMENT QUOTE, and to discuss your requirements, contact Torfx

Contact Murcia Today: Editorial 966 260 896 / Office 968 018 268