Date Published: 11/10/2014
Changing a car to Spanish registration plates: the law as it stands
When is it necessary to re-register a car with Spanish plates?
The new Traffic and Road Safety law which came into force in April 2014 contained one point which has a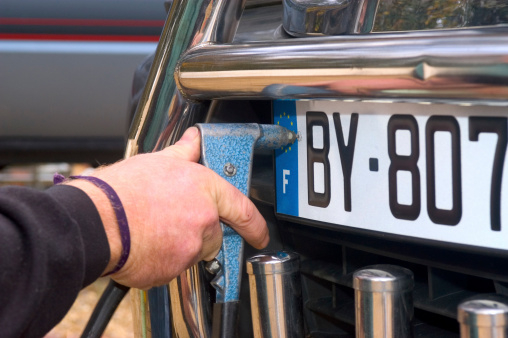 large impact for foreign nationals who own vehicles in Spain and has caused a vast amount of confusion. Many readers have emailed with queries and it has taken weeks of dialogue with the DGT to try and clarify the details of this, as the DGT themselves admit that the wording of the legislation is not satisfactory and the law as it currently stands will be amended in the near future because of this.

For EU nationals whether they need to re-matriculate vehicles or not is a frequently asked question. Many suspect that either we have spent money and time on re-registering a vehicle unnecessarily, or that due to a lack of understanding of the complex regulations we ought to re-register a vehicle but are in breach of the law because we haven't yet done so.

The legislation on this point is not 100% clear, and the DGT are seeking to change it in order to clarify the situation, but at present the law stands as follows.

The need to register a vehicle with Spanish plates depends, for EU nationals, on the concept of "normal residence"", i.e. whether the owner/driver spends more or less than 185 days a year in Spain.

If a national of an EU Member State does not have "normal residence", i.e. spends fewer than 185 days in this country in a calendar year, there is no legal obligation to  register a vehicle in Spain. In other words, a vehicle with British, French or any other EU number-plates can be used on the roads of Spain unless the owner/driver spends more than 185 days a year in this country, even if the vehicle is left in Spain all year. However, the owners are still obliged to ensure the vehicle is fully taxed, insured and passes through its MOT inspection every year in order to comply with safety laws.

In some details, though, the situation is not fully clear, despite the new Traffic and Road Safety law which came into force this April 2014.

Article 62 of this law states that "motor vehicles, trailers weighing over 750 kilograms and mopeds must be registered in Spain when they are used in Spain by people or companies who are resident in Spain OR ARE OWNERS OF ESTABLISHMENTS IN SPAIN."

For the most part, this is clear: those who are resident in Spain must re-register their vehicles, but the use of the word "establishments" is open to interpretation and this wording will be the subject of the subsequent amendment. The law was originally intended to deal with the issues of foreign registered vehicles being in Spain for a period of time and not complying with road safety standards, but this wording of the law has only served to cause confusion for enforcing officers and the owners of foreign registered vehicles.The law seems to imply that those who own a business in Spain but are not resident must re-register vehicles, but in some cases "establishments" is being interpreted as including "residential properties" as well.

FOR THE MOMENT this strict interpretation is not being applied by the DGT: therefore, non-residents who own residential property ( not business establishments) in Spain are not required to re-register their motor vehicles. However, the DGT plans to clarify this point with new regulations, and the situation may change in the future.

The new law of April 2014 also stipulates that exact conditions and timeframes for the re-registration of vehicles have yet to be established, as do exceptions to the requirement: work is ongoing within the DGT to clarify these points and these will be included when the law is modified.
It should be noted that the same obligation to re-register will be enforced in all EU Member States, as this legislation is derived from an EC directive published in 2007.
 
AT THE MOMENT, then, those EU nationals who could be fined for failing to re-register their vehicles are those who have "normal residence" in Spain (i.e. spend at least 185 days a year in the country) and fail to request re-registration within 30 days of acquiring residence (or 30 days of acquiring the vehicle, if this date is later).

In order to fine individuals, the Guardia Civil de Tráfico have to establish that the driver has "normal residence" in Spain and that the 30-day period has elapsed.
Hope that's clear.
 
article_detail
article_detail
Contact Murcia Today: Editorial 966 260 896 / Office 968 018 268