Calle Mayor in Alicante City
The choices for places to eat are endless along Calle Mayor in the old quarter of Alicante City
In most of the cities and towns in Spain there is a street called Calle Mayor, an idea suggested by Carlos III when he was Mayor of Madrid in 1765. It wasn't before long that the town hall of Alicante gave one of its oldest streets in the city the name 'Calle Mayor', which in this case is located in El Barrio (in the old quarter of the city), between the Rambla de Méndez Núñez and Plaza de Santisima Faz, and joining onto Calle Villavieja.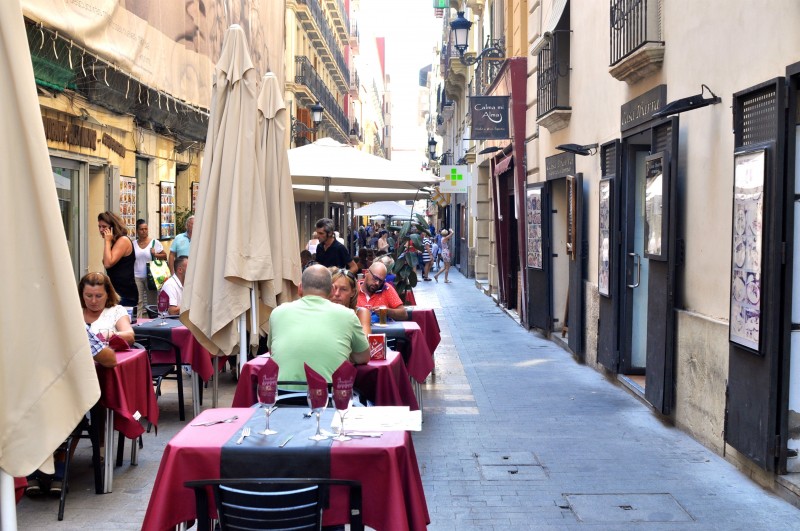 The street used to be one of the most important places for trade, with many prestigious businesses choosing this area to locate their stores due to the street's close proximity to the port, the Concatedral de San Nicolás and the Basilica de Santa María.
Notably, the first Alicante printing house owned by Pedro Ibarra was opened on Calle Mayor at number 26 in the year of 1905. This illustrious printing company edited books, magazines, and the first newspapers that were published in Alicante city.  
After the death of Pedro Ibarra the printing house was renamed Guijarros, and during the years that followed many well-known newspapers were printed including El Alicantino, El Noticiero, El Demócrata, El Correo, El Tiempo and El Liberal. A number of other prestigious businesses had their stores on this street during the 1900s including designer clothes, perfume and shoe brands, hardware stores, silversmiths and pharmacies.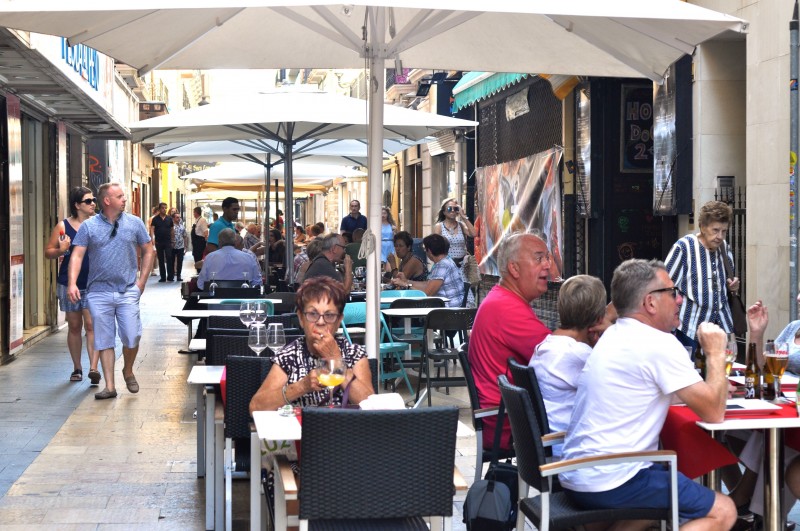 However, today the street has a totally different function, as instead of being a commercial zone, it forms part of the most popular food district in Alicante city, which comprises Calle Mayor, La Plaza de Abad Penalva, and Plaza de Santisima Faz.
Now Calle Mayor offers an enormous selection of places to eat, with numerous restaurants serving a mixture of typical Spanish and Mediterranean cuisine, and local Alicante dishes including tapas, arroz (traditional rice dish), fish and salads. There are also a number of Italian restaurants and ice cream parlours that stay open until late in the evening, as well as several fashionable cocktail bars.
It is by far one of the liveliest, most popular streets in Alicante city at mealtimes, as all of the restaurants have terraces so that visitors can enjoy their lunch or dinner outside on the street, making the most of the warm climate, fresh air and pleasant atmosphere, which couldn't be the same without the street musicians who stroll up and down Calle Mayor playing cheerful tunes on the harmonica or the violin.
Being in close proximity to the city port, the Explanada de España, the Plaza del Ayuntamiento and the Rambla de Méndez Núñez, Calle Mayor is a very popular choice for tourists looking to have a meal in the city centre.  
Click here for more information about visiting the City of Alicante, including what's on and where to go: Click for the dedicated Alicante City section
article_detail
Contact Murcia Today: Editorial 966 260 896 / Office 968 018 268