Basic Spanish pool and summer swimming safety advice
Accidents around the pool cause more deaths than accidents in them
Leaping into the cooling waters of a swimming pool or wading out into the sea is a natural response to the increased summer temperatures in Spain, but sadly for the emergency services, signals a busy time of year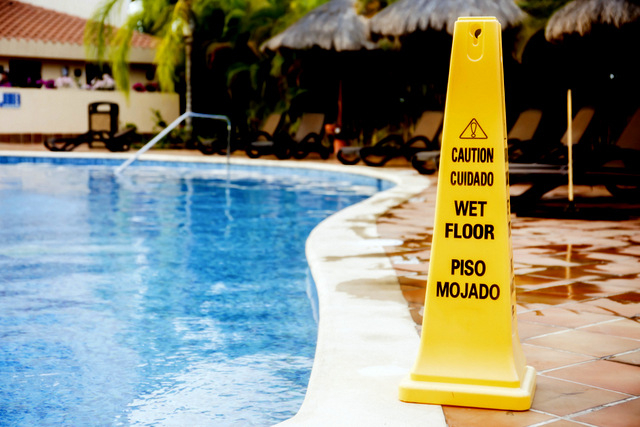 for them as domestic accidents and fatalities increase.
Whilst swimming pools represent  welcome relief  from the heat, they are also extremely dangerous and it is estimated that over 650 accidents take place every day across the European Union, with many people dying in their own pools every year.
Each year the Ministry of Health issues safety advice to bear in mind when using private swimming pools and urges users to bear safety in mind, particularly when children and more elderly visitors are visiting.
A few tips from the Ministry and long-term Spanish residents:
Holiday users and youngsters.
 Pools are a big danger for toddlers and young children who have not yet learnt to swim, as well as for those who can.
Prevention is a key factor for pool safety where toddlers are concerned and there are many simple preventative measures which can be put in place, such as locking access doors to a pool area, installing barriers or fences, covering pools with a cover, covering pools with netting and ensuring that younger children or those unable to swim are never able to approach the water unmonitored.
Remember, a toddler can drown in a few shallow inches of water in a blow-up pool or Jacuzzi as well as a swimming pool.
Well all spend thousands on a swimming pool, yet few with young grandchildren would think about installing safety features to keep their grandchildren out of the pool, rather than in it. But each year holidays are destroyed by tragic deaths as young children fall into swimming pools and drown.

Shallow water.
Death through what is known as "lesions" is high in teenagers: 95% of teenage deaths are due to young people diving and jumping into shallow areas of domestic pools, knocking themselves out on the bottom and drowning. Anyone with a sloping pool is urged to ensure that shallow points are clearly marked to avoid these types of accidents. There are also high numbers of accidents caused by young teenagers slipping, running
around pools and injuring themselves on pool edges, so the choice of tiles and finish is also of great importance for all ages.
Deaths have also been recorded when an individual trips over alongside the pool, or slips, knocks themselves out, then rolls into the pool and drowns.

Elderly deaths
Most of the accidents involving the more mature are caused by accidents around the pool, rather than in it. Slipping, tripping, falling around the edge of the pool, then falling into the water are the main problems, rather than accidents in the water, so the advice given is again to ensure non-slip surfaces are used, and not leave any obstacles around the pool which could be tripped over, including plant pots, toys, hosepipes,  etc which could be dangerous.
If you have slippery tiles, consider installing non-slip matting over the top, but make sure it's properly fastened down, with no uneven edges to trip up the unwary.
Its also advisable to splash water over the body before entering the water to lower the body temperature gradually as this shocks the system less. Never immerse a more mature person in cold water either if youre trying to cool them down, always make sure the water is warm to avoid shock.
Minor accidents around the pool
Consider all aspects of safety when moving around a pool and positioning seats, tables, chairs etc. Use
plastic utensils and not glass- a broken glass or glass bottle can result in not only serious injury, but the need to drain a pool and recover the pieces, a hosepipe left lying across the floor can be lethal, as can toys, clothes left on the floor and suntan oils.
One of the most important pieces of advice is always to have floats in the water in case of accidents and keep a phone handy when the pool is in use.
The Emergency number is 112: put it in your phone now in case you ever need it.

Irrigation embalses or tanks
Agricultural irrigation embalses or tanks can be absolutely lethal in Spain. Many rural fincas store their water
supplies in large open embalses, which are normally plastic-lined. The slippery plastic sides are extremely dangerous and there are many incidences each year in which both humans and animals drown because they are unable to get out once they have fallen in.
In the past we've reported on cases such as that of the elderly man trying to save his dog, who slipped into his own embalse during the rescue attempt and drowned. The simple provision of always having a nylon rope secured to railings or a post in one corner of the embalse and trailing down into the water will ensure that anyone accidentally falling into the embalse would be able to climb out, saving a life.
Check the rope has not degraded every year and make sure agricultural embalses are properly fenced off to minimize the risk of accidents.
Wells
The countryside of rural Spain is littered with wells, many disused. Although these are generally covered, there are many that are not and each year there are reports of individuals and their pets falling down wells.
Trying to rescue someone from a well can be just as dangerous, as external structures can be degraded, as can the ground around a well, and panicking friends can drag you down, so always take a mobile phone when walking in the campo for that 112 Emergency Services call. If you're walking in an area where there was formerly human habitation (particularly with a dog off the lead) bear in mind that there was always a need for water and there is likely to be a structure built to retain it lurking around somewhere. It is not uncommon for these to have been sealed with wooden covers which degrade over time and again, every year there are reports of a wooden cover giving way and somebody going down a well.

Sea Bathing.
Cardiac arrest is commonly given as the cause for bathers expiring whilst in the sea, the shock of moving
from hot sun to cold water causing dizziness. It's a very normal occurrence for deaths to occur on beaches during the hotter weather as bathers heat up on the beach then head into the sea to cool down. The more mature, or those taking medication are particularly susceptible, as the shock can cause dizziness or even fainting, victims often drowning in these situations.
Areas such as the Mar Menor in the Murcia Region regularly witness deaths in this fashion as bathers are lulled into a false sense of security by the shallow, warm waters and wade out a good distance from the beach, still only being waist high in water.
The secret is never to permit more mature bathers or those taking large amounts of medication, to bathe alone and take particular care when entering the water after being directly in the sun:splashing the body to cool down before entering the water helps to take the stress out of entering the water.
Advice is always issued to keep mature bathers out of the sun as much as possible, wear sunhats, use sunscreen and make adequate use of sunshades.
Alcohol
Alcohol and water don´t mix, and the same goes once the alcohol has been absorbed into your bloodstream.
The chances of having an accident around water increase with every mouthful, so keep away from the alcohol if planning to swim. Every year there are drownings as holidaymakers have a little too much in the way of holiday spirits and lose their lives ignoring this age-old advice.

Beach bathing
Many of the main beaches have lifeguard cover during peak holiday weeks but for the rest of the year are not supervised. It is strongly advised to check for local information about currents, concealed rocks and tidal conditions if planning to swim in the sea, as every year there are deaths.
On beaches which do have lifeguard provision, warning flags are used to denote sea conditions, red being a warning not to bathe. In some areas of Spain there are substantial fines for disregarding the safety warnings, and endangering the lives of rescue personnel who will be tasked with rescuing those foolish enough to ignore the safety warnings.
Water Parks.
In the third week of June 2015 two children died in separate waterpark incidents. In both cases there were lifeguards on duty, but the children had become separated from the groups with which they had arrived and
were out of sight of their monitors when they had an accident which resulted in their deaths. Although waterparks are a great place for kids to cool down, they can also be very dangerous, as children are running around, so can trip and bang their heads. One of these children did precisely that and rolled into the water, unconscious, before drowning. Take great care to keep the kids in sight, always make sure theyre accompanied, and well protected against the hot sun, and take particular care if they take medication, suffer from epilepsy or have just eaten.
Mermaid Tails
A special note must be made about mermaid tails, currently a rage amongst younger people. Although those
who sell them advocate their health benefits, there are also concerns that they can present a danger for younger users, who can find it difficult to regain an upright position. Some swimming pools in the US and Canada where they have been popular for a while have now banned their use, while others insist on children demonstrating their ability to swim to a good level before being allowed to use them. Regardless, it is strongly advised that they be used only under strict adult supervisión. There are video clips circulating on Youtube showing instances of youngsters having trouble uprighting themselves in the water while using these "toys"and it is important to take this into consideration if buying one for holiday use.
Click for a full list of expat fact sheets: simple tips and basic advice about living in Spain, Click Expat factsheets
article_detail
article_detail
Contact Murcia Today: Editorial 966 260 896 / Office 968 018 268