Are dogs allowed on the beach in Spain?
Is my dog allowed on the beach is a common question
The question of whether dogs are allowed on Spanish beaches is a common one, but in short, no, they're not, is the general answer.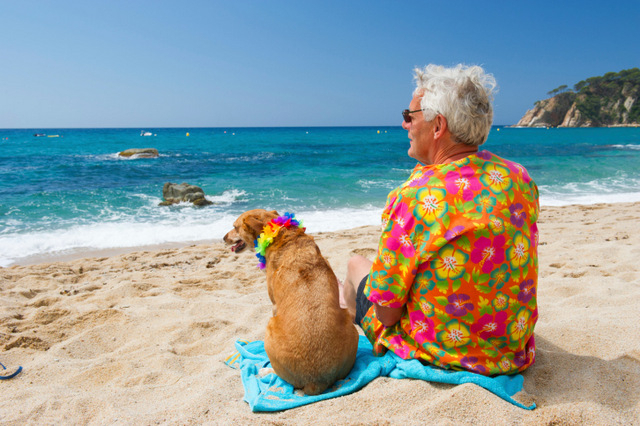 Spain is changing, and more municipalities are attemping to create dog friendly beaches, but in general dogs are not allowed onto beaches. This is quite simply down to money, as beaches are the lifeblood of the tourist trade and councils are obsessed with obtaining quality ratings for their beaches, so making sure visiting tourists are not treading in piles of dog excrement is high on the agenda of every council during the summer months.
Although a blind eye is often turned during the winter months, and everyone who has been in Spain for more
than a few months will concur, many dog owners do take their dogs onto beaches, but this is breaking the law right throughout the year and should a council be on a clamp-down, or a passing police officer decide to enforce the law, then it is a fineable offence.
The path to creating dog friendly beaches is a rocky one, as although some residents will call for a beach on which they can exercise dogs, there will always be other residents who oppose it and complain about dog excrement and noise.Sometimes a beach is declared dog friendly and then within months this has changed, so the best advice is to call your local tourist office and ask.
If you do have a dog beach, make sure your pet is vaccinated and chipped, and take the pet passport given by your vet as proof of this with you: it may not be needed, but its always best to be covered in Spain.
If you are lucky enough to have a dog beach in your municipality, take care during very hot weather as dogs with burnt pads are a common sight when temperatures are at peak levels. The same goes for pavements, so its advisable to take care walking dogs during the really hot heatwaves which sometimes assail Spain.
There are other rules regarding dog behaviour in public, the most important relating to muzzles, vaccinations,  excrement and leads.
The Ordenance below is from Cartagena council but is typical of those everywhere else and lays out the basic rules for dogs in public places:
Ordenance regarding dogs in Cartagena
- All pets in public places must be properly identified (microchipped)and secured by a lead, chain or collar.
- Any dogs who are listed as potentially dangerous canines must wear an obligatory muzzle appropriate for the breed of the animal. Likewise, these animals must be led by a non-extensible lead or chain of less than 2 metres and one person may not take more than one dog.
- Those animals which are in a farm, cottage, villa plot, terrace, patio or any other defined location shall be tied up or restrained unless they are in a suitable enclosed living space to protect people or other animals that are in the vicinity.
- Potentially dangerous animals in public places or parks must be under proper control and be led by a person who has an appropriate administrative licence for an animal who is registered in the Municipal Register of potentially dangerous animals.
- It is strictly prohibited for animals to have access to sandy beaches or public bathing areas, as well as sandy areas in squares or streets.
- People who walk dogs must prevent the depositing of droppings on sidewalks, pathways, gardens or generally any place that is dedicated to pedestrian traffic. The person in charge of the animal is required to collect and remove droppings in a hygienically acceptable way by using a plastic or paper bag or a dustpan and depositing them in the nearest container. If there is no designated rubbish container provided, they should be taken to the roadside and deposited at the curb as close to the sewerage system gutters as possible or in an area that is not intended for pedestrians or a designated play area.
- Generally, dogs may be loose in enclosed areas that are provided for this purpose by the Ayuntamiento, with the exception of those who present a danger to other users of the facility.  In public parks where there are no enclosed areas, dogs must be on a lead.  
 
Additional useful dog information for newcomers to Spain.
- By law, all dogs must be microchipped and vaccinated. Both of these processes can be carried out by local vets.
- Vaccinated dogs will wear colored vaccination tags on their collars, so be careful when allowing any domestic pet to interact with stray dogs which may not have been vaccinated, particularly if your own dog is in
a compound area and has not been vaccinated itself.
- When transporting pets, make sure that they are secured in the back of the vehicle and not loose on the seats ( this also applies for cat boxes).
- Screens can be purchased to create a physical barrier between the front and back of the car, or special leads purchased to secure dogs in the back of a vehicle. It is illegal for unsecured animals to travel in a vehicle.
- Loose items on back seats are also illegal.
- It is well worth purchasing collars to protect against sandflies as these protect leishmaniasis, which is a widespread, fatal illness found in many dogs in Spain, particularly those in the countryside. Treatment of this illness can prove expensive long term, so a collar is a worthwhile investment and also protects against ticks.There is also a vaccine now available.
- Cheap fleacollars offer no protection against leishmaniasis and ticks.
- Lungworm tablets are inexpensive and also a good investment, as are worming tablets.
- Beware procession caterpillars in the spring, the hairs can easily kill a dog. Walk dogs well away from areas where these are found and if you see a string of these caterpillars on the floor do not approach them and do not permit your pet to touch them. Every year cats and dogs die from touching procession caterpillars.
Do not touch the nest with your hands.
article_detail
article_detail
Contact Murcia Today: Editorial 966 260 896 / Office 968 018 268